Upon visiting the VPNreactor site, the clean presentation is pleasing to the eye.
VPNreactor has a limited number of servers: 13, including a VPN server and an SSTP server. Eight are in the US, the remaining three are in the Netherlands, the UK, and Taiwan.
The Short Trial of VPNReactor.com
The choice is simplicity itself: pay or don't pay. The "free" VPN plan is available but frankly, not worth the bother: it's limited to 30 minutes at a time after which you will be dropped out of the network and will have to wait 30 minutes before getting back in. Outbound SMTP is blocked. Only PPTP is provided and there is no customer service. Every year, you have to reconfirm you want the free plan.

Pricing Plans and Technical Details
For $7.99USD/mo, even the basic shared IP plan is better than that! You're still limited to PPTP but you have access to all US servers and there's no time restrictions. At only two dollars more per month, the "Max" plan blows open the doors. It's still a shared IP but you also get:
All protocols (PPTP, OpenVPN SSL, L2TP/IPSec, StealthVPN, SSTP and SSH Tunnel)
Access to all servers
If you want a dedicated IP, that's the Premium plan, at $17.99USD/mo.
Payment is made through PayPal and all plans have a one-week free trial available.
Customer Service and Privacy Policy
Going deeper into the site, the information is written in a cursory style. Access to customer service is limited – even though it's an American company, the only way to contact them is via email. Even if you call the number provided, they will not return voice mails or phone calls: just leave your name and email address. Setup is not convenient and could be difficult if you're new to computers. There is no proprietary preconfigured software, hence, absolutely nothing by way of features.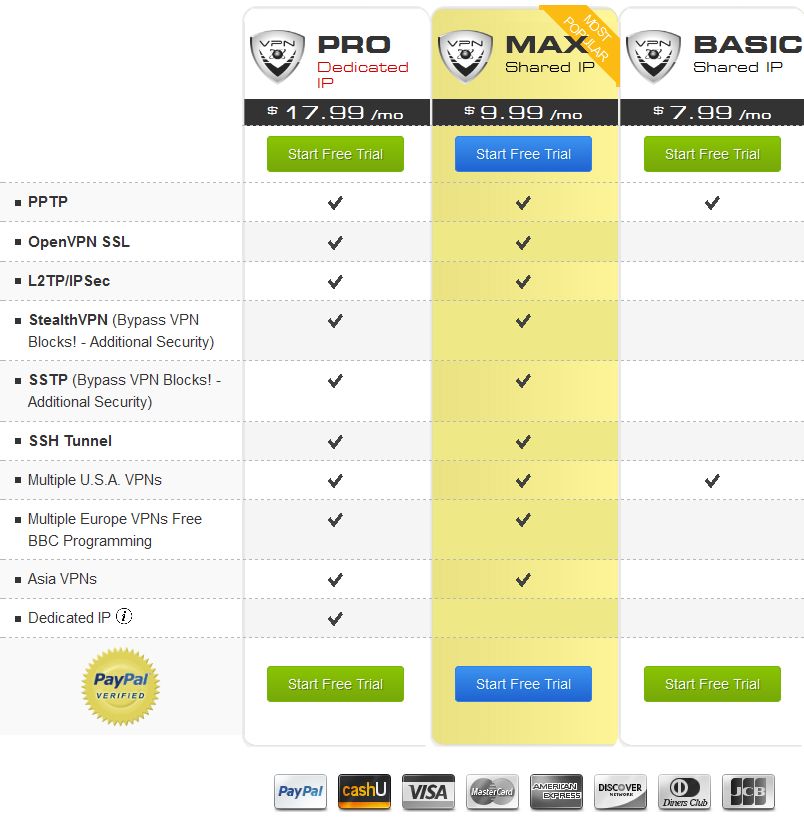 When it comes to the Terms of Service/Privacy Policy, someone clearly watches too much courtroom drama. The font is small, the paragraphs are big, and the words are bigger. It's a chore to get through it all but what it boils down to it, they will "improve" your privacy but cannot absolutely guarantee it and they don't monitor your activity online unless they catch you doing something illegal, in which case it's a $250USD per hour fine for legal fees, investigation, cleanup, etc. At least normal porn sites and Live Cam Sites are not seen as illegal.
For the amount VPNreactor charges compared to what they offer, other companies look like a much better return on investment.
View Offers & Coupons