CyberGhostVPN is a VPN service provider that is based in Bucharest, Romania. It was founded in 2007 by its current CEO Robert Knapp. The company's is operating its service using 3000+ VPN servers that are located in 60+ countries all over the world.
The company was created in the principle that the internet was established as an environment where people can freely express their beliefs and opinions. And because of this, the mission of the company was to provide unrestricted access to all its users in regards to information and data online without sacrificing its customer's privacy and anonymity.
Today, CyberGhostVPN is a global leader in delivering privacy and security to all its VPN users around the world. They are committed in protecting its subscriber's right to be free from hacking, phishing and other means of internet scheme to get their information.

How CyberGhostVPN works
CyberGhostVPN lets you browse online with their VPN connection freely and securely by encrypting your data with one of their encryption protocol. It allows your data to pass through their VPN channel directly into one of their 3000+ VPN servers, in order to bypass any geographic restrictions and limitations set on your area.
CyberGhostVPN also replaces your IP address that is visible online to safeguard your identity and location from 3rd party entities. In addition to these benefits, replacing your IP address with one of their own, keeps your browsing history and activities anonymous from website owners and administrators that tends to use that information to bombard you with promotions and sales calls.
With CyberGhostVPN system, you can enjoy unrestricted access to all information offered by the internet. It allows you to circumvent any limitations set on your area, giving you full access to all your favorite websites and online applications anytime and at any location in the world.
Features of CyberGhostVPN
Multiple protocols
CyberGhostVPN provides its users access to PPTP (128 bit encryption), OpenVPN (AES-256 encryption) and L2TP/IPSec (AES-128) protocols. These encryption protocols enable you to access the internet safely and securely.
Device Compatibility
CyberGhostVPN supports any device that runs on Windows (OpenVPN, L2TP/IPSec, PPTP), Mac OS (OpenVPN, L2TP/IPSec, PPTP), iOS (L2TP, IPSec, PPTP), Android (OpenVPN, L2TP/IPSec, PPTP), Linux (OpenVPN, L2TP/IPSec, PPTP), ChromeOS (L2TP), Router and Raspberry (OpenVPN), Amazon Fire TV/Stick, even 7 different ones at a time.
It also works on Windows Phone ver. 8.1 (L2TP), Synology NAS (PPTP), VU + Solo2 (OpenVPN), OpenELEC (OpenVPN), game consoles, eBook readers and other devices.
Free Proxy service
CyberGhostVPN provides users with free proxy service for their browsing needs. You can use the free proxy service to surf the internet anonymously.

Free VPN Service
CyberGhostVPN offers a Free VPN service to all VPN users. The Free VPN is available for Windows, Android and Mac. The Free VPN is unlimited, but is only allowed to access a basic server and its connection to the VPN server is done automatic.
Allows P2P activities
CyberGhostVPN allows P2P access on most of its servers. However, servers in USA, Singapore, Russia, Hongkong and Australia blocks P2P traffic. P2P traffic is also blocked in the Free VPN service.
Unlimited Bandwidth and server connects
CyberGhostVPN provides users with unlimited bandwidth access (all plans, including free VPN). Users can also connect as much as they want to the VPN servers provided by their plans.
No Logfiles!
CyberGhostVPN does now keep any records or logs of your internet activity, IP address or list of visited websites. They don't collect personal information like name, email addresses, address and other personal payment records. They even use an anonymous subscription ID to record and keep your subscription information and activation keys.
Allows Bitcoin Payment
CyberGhostVPN encourages anonymous payments by accepting Bitcoin as an allowed payment method. Bitcoin provides the privacy and anonymity when paying for goods and services online. You can get Bitcoins at sites like localbitcoins.com or win them with Bitcoin Poker.
45 days Money Back Guarantee
CyberGhostVPN provides customers with 45 days money back guarantee policy for its new subscribers.
New customers can claim a 100% refund of their subscription payments when they are unsatisfied with the VPN service within 45 days upon activation of their accounts. CyberGhostVPN even allows refunds within 45 days in specific cases like duplicate purchases, unused products and purchase mistakes.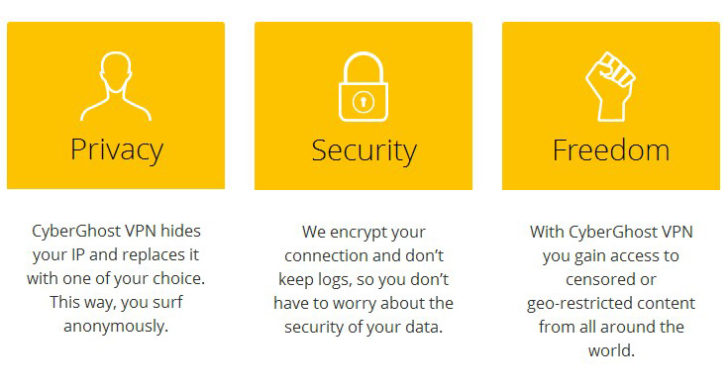 Customer Service
CyberGhostVPN offers customer support through live chat, email and through a comprehensive knowledgebase section in their website.
CyberghostVPN Countries:
Cyberghost offers servers in the following countries: Albania, Argentina, Australia, Bosnia and Herzegovina, Bulgaria, Brazil, Belarus, Chile, Colombia, Costa Rica, Croatia, Cyprus, Estonia, Czech Republic, Denmark, Finland, France, Germany, Greece, Ireland, Italy, Luxembourg, Kenya, Netherlands, Norway, Poland, Romania, Russia, Spain, Sweden, Switzerland, UK, Ukraine, USA, Austria, Canada, Hong Kong, Singapore, Belgium, Finland, Hungary, Israel, Iceland, Indonesia, India, Italy, Japan, Lithuania, Mexico, South Korea, Lithuania, Moldova, Macedonia, Malaysia, Norway, New Zealand, Pakistan, Serbia, Slovenia, Slovakia, Thailand, Taiwan, Vietnam, South Africa
Benefits of CyberGhostVPN
Provides users with full Internet anonymity
Protects your traffic data and information with top notch Internet protection and security
Allows access to geo-restricted blocked contents anywhere in the world
Safeguards your identity and anonymity by hiding your real IP address
Fast and easy to use and install VPN software
Unlimited bandwidth access to their VPN service
Live server information and updates
Our CyberGhostVPN Speedtest Results (median values)
Upload Speed: 2.5 Mbps
Download Speed: 20 Mbps
Ping time: 40 ms
CyberGhostVPN Plans and Pricing Overview
36 Months Plan: $2.75 (79% Discount!)
1 Month Plan: $12.99
24 Months Plan: $3.69
12 Months Plan: $5.99
CyberGhostVPN Mode of Payments
Bitcoin
Visa
MasterCard
American Express
JCB
PayPal
The Client Interface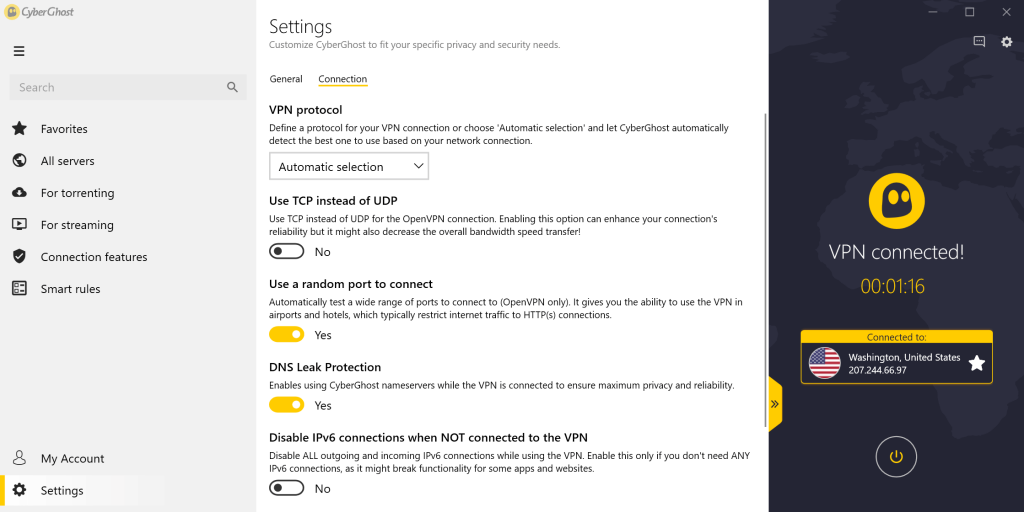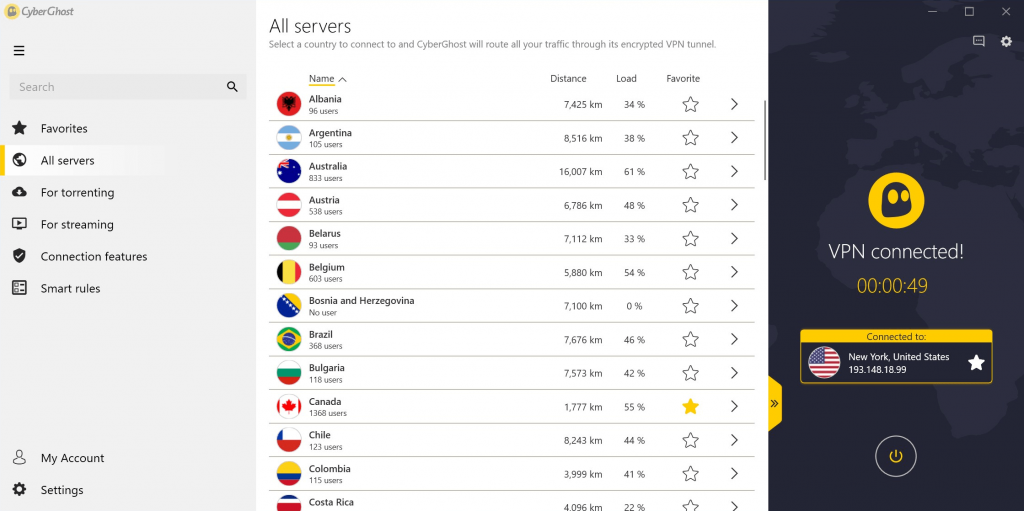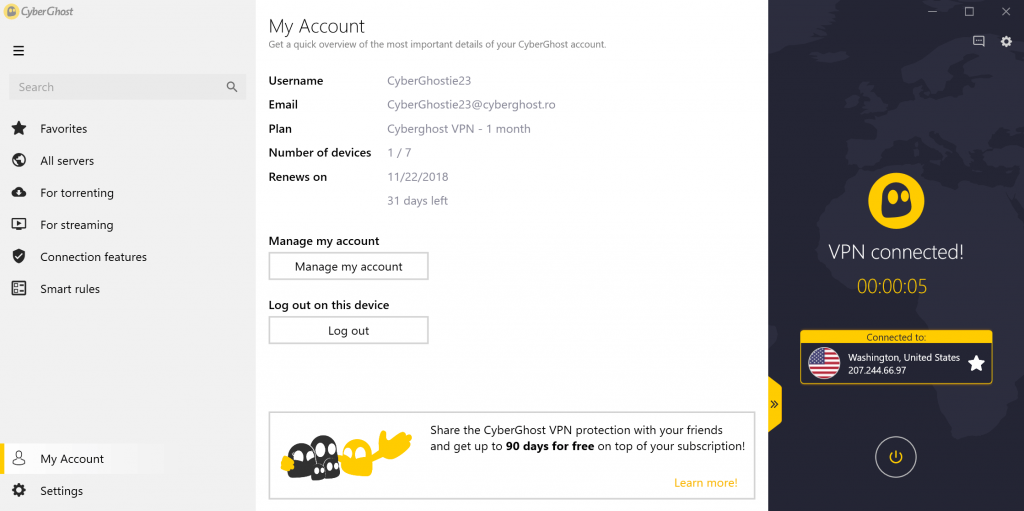 Pros
3000+ VPN servers in 60 countries
Allows P2P access (most servers)
Unlimited bandwidth
Bitcoin Payment
No logs are kept and anonymity is embraced
45 days money back guarantee
Multiple protocols
Device compatibility
Free Proxy
Free VPN
Allows 7 devices connected at the same time (Premium Plus plan)
Cons:
Only one device allowed to connect at a time on Premium plan
"Only" 60+ countries available
Free VPN service a little bit slow
No P2P access in USA, Singapore, Russia, Hongkong, Australia and on all Free VPN service servers.
Cyberghost Review Conclusion
CyberGhostVPN has impressive features and capabilities that VPN users look for in their VPN service. It has easy to use applications, multiple protocols and unlimited bandwidth usage that delivers superb VPN experience to all its customers. However, other plans have limited features and VPN accessibility options (except Premium Plus plan).
Taking consideration of its features and reasonable price, we strongly recommend CyberGhostVPN's Premium Plus plan to all VPN users around the world.
View Offers & Coupons