VPN.ht is a relatively new VPN company, being offered as the default Popcorn Time option to users. The company is located in Belize, which means that it can bypass a lot of the restrictions, which other locations would apply (think of the Unites States or the United Kingdom, for example). With a list of impressive features and with both advantages and disadvantages, VPN.ht wishes to be placed among the best VPN service providers of the world. Let's find out where it stands now, through our detailed VPN.ht review.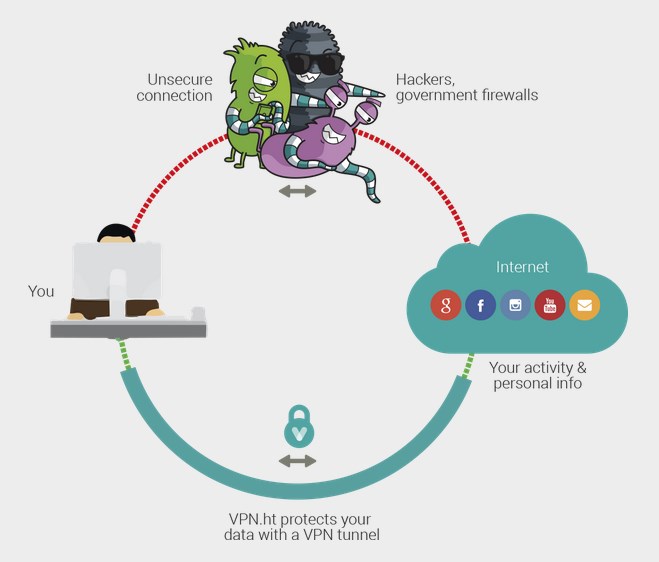 VPN.ht Features
Starting out our review on VPN.ht, it is the aspect of special features and extras that add to the overall user experience. First off, there is unlimited bandwidth for you to make use of and this is always a great thing – especially with Popcorn Time! Up to 3 simultaneous devices can be in use by a single account, at no extra charge. Full compatibility is promised and there is no OS or device, where problems occur. Zero logs are kept, adding to the privacy and anonymity of the VPN connection.
P2P is not forbidden, which is the case in most of the other VPN companies. As one of the top VPNs for Popcorn Time, it can help you out with its built-in software. One-click connect and easy, simple and straightforward setup are among the major benefits you get from VPN.ht, along with the free proxy service you enjoy upon subscription. As a whole, there are practical and beneficial features that you can take advantage of, when it comes to VPN.ht – no extravaganza, though.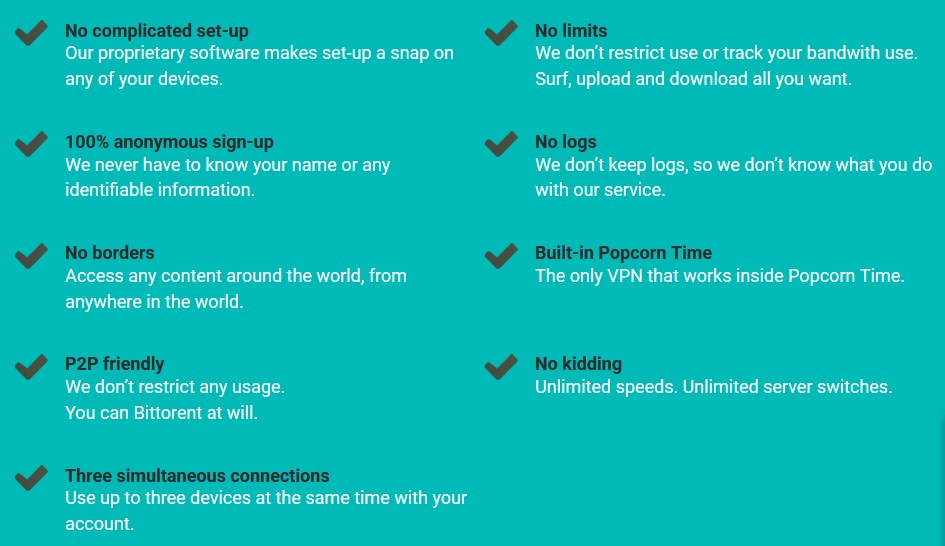 VPN.ht Online Security
Moving on with our VPN.ht review, no logs are kept. This is definitely a wonderful aspect, as logs can be used for identifying yourself and getting in trouble at times (or at least, finding yourself in advertising mayhem). When you use VPN, you kind of need anonymity and privacy. 256-bit military grade encryption is offered to the VPN users, while there are different types for you to select from: 64-bit Blowfish and 128 / 256-bit AES encryption are equally exceptional choices. OpenVPN is the security protocol of preference for VPN.ht, but the other security protocols (like PPTP and L2TP) are also available to you. Solid encryption and advanced security are great, provided by VPN.ht.
VPN.ht Pricing & Plans
VPN.ht pricing is quite affordable and does not leave any room for second thoughts. You can enjoy a whole month (the first month) for a single dollar (cost $1). After that, you get any other month for $4.99. If you are decisive and you wish to subscribe to the annual subscription, this costs $39.99 (roughly $3.33 a month). No free trial is available, but the first month at $1 makes sure that you do not spend your money away.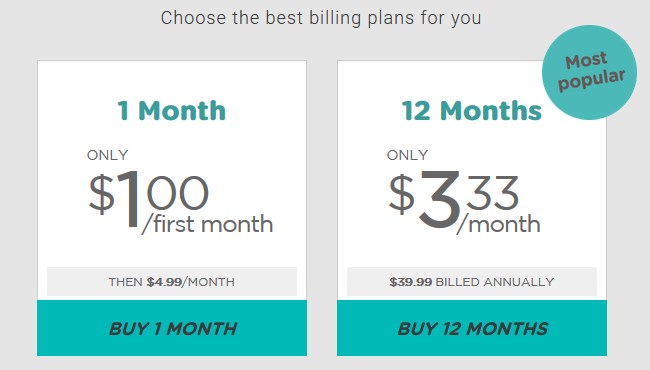 Full money refund guarantee is available for a month – so, there is a turning point for you to benefit from. As far as the payment methods are concerned, great flexibility is on offer. Bitcoin is the primary option for those seeking anonymity and VPN.ht knows that. Besides the use of Bitcoin, VPN.ht offers PayPal, credit cards and WebMoney as options for covering your financial obligations.
VPN.ht Support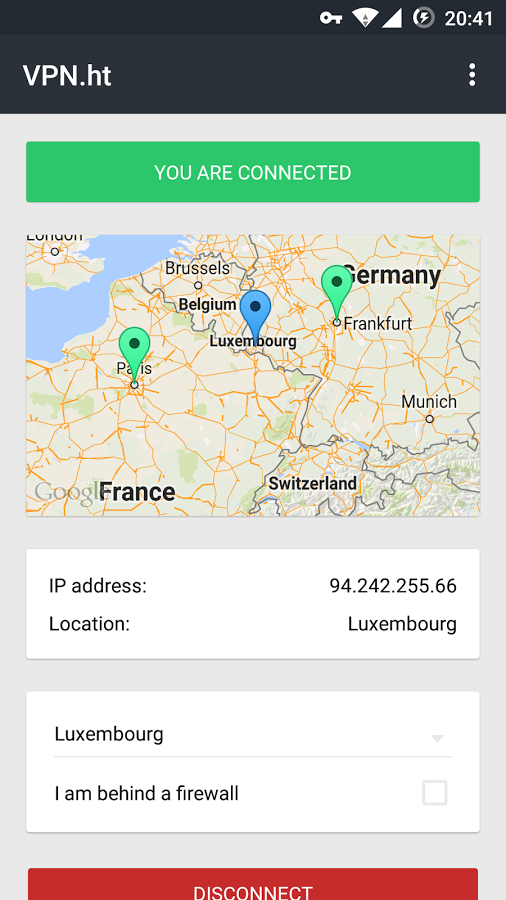 When it comes to support, VPN.ht has got some improvement going on gradually. There is a support section, with rich information on the various OS and devices that you use. The FAQ section is where you can find a list of the most frequently asked questions and this is always a great place to start your research. For setting up the VPN on your computer or other device, you can follow a step by step guide available on the website.
Besides all that, you can benefit from a contact form, where the regular time of response does not exceed a couple of hours. Last but not least, you should look out for the live chat. Should you find it live, this is the best option for having any issue resolved in no time. Social media accounts are active on Facebook and Twitter, allowing you to keep up with their latest news.
VPN.ht Speed & Performance
In order for you to enjoy Popcorn Time or P2P file sharing, you need a speedy and reliable VPN. VPN.ht does a fair job and provides fast, trustworthy performance every single time. You can understand the fact that the encryption types pretty much determine if there is any speed lost along the way. For instance, Blowfish is great for live streaming. The free proxy service is naturally not as fast as the VPN. However, you can use that as an easy and simple alternative. The only problems that we have witnessed throughout our VPN.ht review had to do with the use of their Android app, which needs improvement in avoidance of crashes.
Bottom Line
Upon completion of our VPN.ht review, we can display both the advantages and disadvantages of this service. The location of the VPN in Belize is really encouraging for the services provided. Along with the affordability of the services, the use of advanced security protocols and the superb encryption types, you can expect nothing less than military grade security. VPN.ht is the built-in VPN for Popcorn Time, as well as a great VPN for P2P. The support is basic but knowledgeable, while there is the extra free proxy service that can help you out at times when you do not care for the use of VPN. Up to three different devices can be used at once from the same account, at no extra charge. Full compatibility with OS and devices is definitely another plus. We generally recommend VPN.ht as a reliable VPN.

In a few lines:
Pros
Built-in option for Popcorn Time
It is an affordable VPN
It is very easy to use
There is the extra free proxy service
No logs are kept and Bitcoins are accepted
Up to 3 simultaneous devices
Cons
Only basic support (live chat not live 24/7)
Some minor issues with speed
The Android app crashes
View Offers & Coupons