Private Internet Access is a good value VPN provider, with a reputation for speedy service. Private Internet Access is based in the United States and offers guaranteed anonymity and security to customers.
Private Internet Access is one of the anonymous VPN service provider companies on the internet that offers dedicated VPN services with full anonymity in both the payment and subscription. It is a US based company and has several VPN servers located in many countries across the globe. The speed of the VPN connections of Private Internet Access Company is considerably good and reliable due to the use of tier-1 network and advanced  technologies.
The company has lightweight and easy to use VPN client for different types of devices and operating systems (more than 39 and counting) to create value for customer and a multi-platform compatibility benefit. It is a subsidiary of London Trust Media Inc. It has servers located in more than 16 countries and the business footprints spread across all countries of the globe. The widespread tier-1 network of the company has a capacity of 3160 Gbps. The headquarters of the company is located in the USA at the following address:
This VPN provider is committed to providing first class speeds, while also maintaining high privacy standards. Customers who need to remain anonymous will find it's possible to pay for the service with any brand gift cards or Bitcoin – which you can mine yourself, buy online or gamble & win them in a good bitcoin casino.  Plans can also be purchased with other methods of payment such as Paypal, Google Wallet or any credit card.

Signing up for a VPN plan with Private Internet Access is easily done via the company website. Plans can be purchased on a monthly basis or for discounted rates over six months or a year. Signing up for the annual plan makes the monthly charge one of the most economical VPNs currently on the market. Maintaining anonymity via Private Internet Access is also a breeze. Customers checking the box to make payment via Paypal will find they are taken straight to the Paypal sign in page with no requirement to even enter an email address.
Privateinternetaccess.com offers servers in: United States, the Netherlands, Germany, Switzerland, Hong Kong, Great Britain, Canada, Sweden, France, Romania.
It's easy to configure devices for the VPN service and the company provides comprehensive instructions and guidelines on its website. They also sell pre-configured routers so any internet-enabled device on a network can utilize the VPN, such as Smart TVs or Roku. Users have the ability to connect up to five devices simultaneously with this service, meaning a variety of home devices and mobile devices can be connected to the security of an encrypted tunnel at the same time.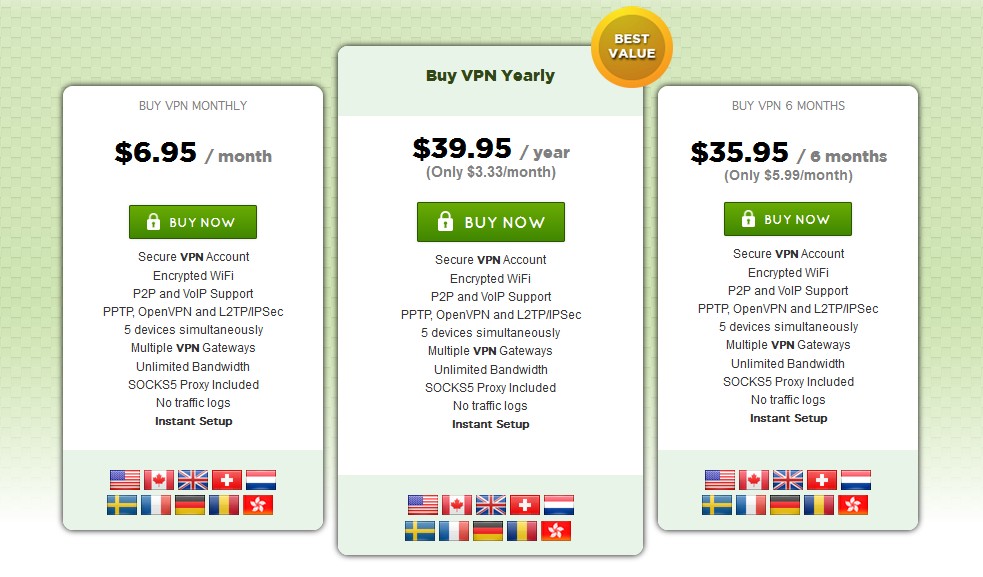 Privateinternetaccess Pricing Plans
The pricing plans of Private Internet Access are very competitive and attractive as compared to many other service providers in the marketplace. It offers three standard plans that are suitable for different kinds of business and personal users. The standard pricing schemes are listed below.
1 Month Plan: For just $6.95/month with all standard features
6 Month Plan: For just $35.95/6 months with all standard features
12 Month Plan: For just $39.95/year with all standard features
The company offers larger discounts on 6 month and one year plans that make the yearly plan as the most popular and best value plan of all available schemes. You can pay through different payment options such as different types of credit cards, numerous gift cards, digital currency (bitcoin), PayPal, CashU, Amazon payments and many others. You can maintain your anonymity by paying through bitcoins and supported gift cards of different retailers and online seller companies.
All plans of the company include numerous features such as 5 simultaneous devices, unlimited bandwidth, numerous VPN gateways, SOCKS 5 proxies, and instant setups etc. All plans are covered with the encrypted Wi-Fi features and 128 bit ciphering schemes. The registration process is very simple and instant to activate your subscription within a few minutes' time.
The major drawback with signing up via Private Internet Access is that the company does not offer any free trial period and neither do they have a money-back guarantee for customers who may experience problems with the service. All other aspects of the VPN plans offered by the company match or exceed services supplied by competitors.
Private Internet Access has servers in more than ten country locations worldwide, with most locations in the United States. The Swiss servers provide the most secure encryption for user data. Customers can conduct speed tests on all server locations to check out which provides the best service and independent reviews confirm this is one of the speediest VPN providers on the market.
Features & Advantages
The dedicated VPN services of Private Internet Access are featured, flexible and secure. The salient features and advantages are listed below.
Offers competitive prices in this domain of business.
Numerous discounts and commercial plans
Very simple and easy process to register and pay anonymously
Supports numerous payment options such as credit cards, gift cards, bitcoins, PayPal and others.
Supports many regionally blocked websites to access from all over the globe.
Offers global coverage from more than 16 countries.
Owns a powerful, reliable and secure tier-1 network with Gigabit connections of over 3160 Gbps.
Uses all protocols commonly used in the marketplace such as OpenVPN, L2TP/IPSec, PPTP.
Does not record any logs of traffic, requests or used IPs
Website outlook is very reasonable to offer intuitive content for  a novice user.
Socks 5 proxy is included in all plans and packages.
Support for public Wi-Fi security
Offers unlimited bandwidth
Offers lightweight and simple VPN client for all devices such as smart phones, tablets, laptops and desktops.
A reliable security against internet disconnection through VPN kill switch available in the client software.
DNS leak protection supported.
VPN client capable of finding the best server at a certain point of time.
Offers customer support through multiple modes of communication such as Live Chat, Emails, Online Ticketing, Blogs, Forums and others.
Offers detailed guides and setup manuals for different devices and platforms.
Uses shared IPs for anonymous browsing
A large and dedicated support center with numerous library items available for instant support for customers.
A large number of satisfied customers are already associated with this company.
Allows 5 simultaneous devices and multiple VPN gateways
Disadvantages & Downsides of Privateinternetaccess
Although the VPN service of Private Internet Access Company is featured richly, but it has some very fundamental disadvantages too. These downsides of the company services are listed below.
Does not offer any kind of trial period for a new customer.
There is no information available on the number of servers the company owns and what is their load status.
Uses a lower level of data encryption of 128 bits; it is a good idea to use the higher level of encryption schemes such as 256 bits.
There is no special offering for business users or enterprises.
There is no telephone support available.
24×7 support is available for US customers only.
Signing up with Private Internet Access is a great option for consumers with serious concerns about Internet security as this company has sincere commitment to providing the best, secure encryption which is coupled with the fastest available speeds.
View Offers & Coupons