The first thing about VPNAccount's website is that they seem, with the energetic green and orange colour palette and the cheerful cartoon characters, to be targeting the student population. The first page is well laid out with information on VPN, online security, latest news, customer reviews, etc, and links to all main sections at the top in a persistent menu.
Setup instruction via the network sharing centre is provided. It's very detailed and should guide even the rawest noobie with a decently-upkept machine through an easy setup.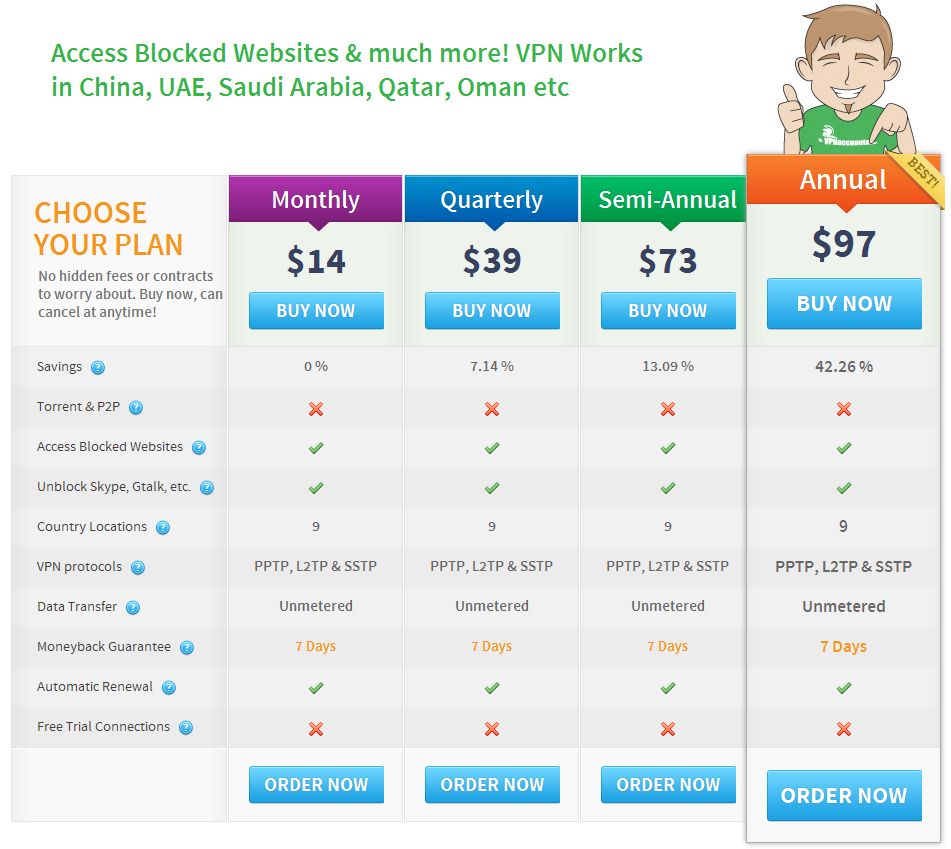 The Pricing of VPNaccounts.com
Pricing is simple and comes with a 7-day money-back guarantee: you can pay $14USD a month, $39USD quarterly, $73 for the half-year, or $97 annually, which is a little on the high end, considering:
Servers in only eight countries: USA, UK, Canada, China, Germany, Hong Kong, the Netherlands, and Singapore
No filesharing is allowed at all (torrent clients and other P2P programs are blocked)
No OpenVPN or any other protocol beside L2TP, SSHP, and PPTP
No software and no automatic configuration
Customer support is limited to an online email form
It's the only VPN encountered so far that indicates they are blocked by ISPs
Payment options are limited to PLIMUS and PayPal
Reviewing the Privacy Policy, it looks like they're tied in to Google Analytics or some similar service, as they collect information about site usage. They say it's in the aggregate and is used to "fine tune layout" and ensure that the "site" is "as enjoyable as possible". This is curious, since nobody signs on for a VPN service to use the VPN site.
Terms of Service concerning Logfiles
The first part of the Terms of Service say they timestamp connection information and log bandwidth and connection duration only but they then go on in great detail about the types of crimes that will be punished if committed using the VPN. Given their lack of technological sophistication, it does make one wonder how such transgressions would be detected without monitoring and if they're monitoring, it's not a stretch to think they'd be logging it. So, if you want to watch your favorite Cam Girl Sites – think twice if you do that with VPNaccounts.com.

Conclusion
Customer reviews posted on the site are generally positive but there is a curiously high number of cancellation requests, not something one would expect to see on a customer review pane as it could give rise to doubt about a company's ability to retain customer loyalty.
In short, this VPN charges too much for too little.
View Offers & Coupons