Slick VPN is a US-based VPN service that was launched in 2012. Just like any other VPN service provider in the market today, Slick VPN promise to provide a reliable VPN service for effectively unblocking the internet.
Slick VPN is incorporated with various offshore holding companies as well as operating firms to protect its interests. Moreover, Slick VPN also has a server presence in more than 40 countries across the globe.

From paper, Slick VPN seems like a very decent and reliable VPN service provider. We tested the service to see if the VPN company does provide quality VPN connections like many of the VPN users online are claiming to be.
In this comprehensive review, we will try our very best to be as objective as possible in all aspect of the VPN service. Here's our honest review of Slick VPN.
Slick VPN Features
Slick VPN claims it is dead serious about anonymity. Which is why is offers the world's strongest VPN encryptions of up to 256 Bit encryption system. The VPN service also supports the most common VPN security protocols namely PPTP, IPSec and OpenVPN. Encryption levels will vary on the security protocols used. PPTP uses the basic encryption of 128 bit, IPSec uses 128 bit, and OpenVPN uses the strongest security level of 256 bit encryption.

Slick is compatible with various platforms that are VPN-ready. Such devices include desktops, laptops, tablets, and smartphones. You can run the VPN service on devices like Windows, Mac, Ubuntu, iOS, Android, and even wireless routers. You can check for installation and setup guides on Slick VPN's How-to page.
Slick VPN is also proud to be the only VPN provider to offer a HYDRA Multi-Hop feature that will allow users to connect to multiple secure gateways simultaneously. Check out on their website how this feature works. It also provides an additional layer of protection to safeguard users' VPN connections from deep packet inspections.
Users can switch to different servers with no extra charge. You can also connect to five devices with one Slick VPN account all at the same time. P2P activities are allowed as well.
Slick VPN IP and Server Network
With more than 142 servers located in 46 different countries, Slick VPN is able to provide all types of internet privacy and unlocking needs from bypassing geographic restrictions to straying away from surveillance practices.
Slick VPN has servers located in the following major cities: Australia, Austria, Belgium, Brazil, Bulgaria, Canada, Chile, China, Czech Republic, Denmark, France, Germany, Hong Kong, Hungary, Iceland, India, Indonesia, Ireland, Israel, Italy, Japan, Latvia, Liechtenstein, Luxembourg, Macau, Malaysia, Netherlands, New Zealand, Norway, Panama, Poland, Portugal, Republic of Kosovo, Romania, Russian Federation, Singapore, South Africa, Spain, Sweden, Switzerland, Taiwan, Thailand, Turkey, Ukraine, United Kingdom, and United States.
There are about tens of thousands of IP addresses that users can use to hide their internet habits. Slick VPN offers multiple static and shared IPs for the users' disposal.
Slick VPN Subscription Plans and Special Offers
To enjoy all of Slick VPN's amazing features, users need to sign up to a premium VPN service that costs $10 per month. Slick VPN also offers discounted rates for users that sign up to multi-month VPN packages.
Slick VPN offers a single month plan, 3-month plan, 6-month plan and an annual VPN service. The 3 month plan costs $20, 6 months costs $30 and the annual plan at $48 per year. Slick VPN offers a 30-day money back guarantee which serves as the VPNs trial period. Have a read at Slick VPN's refund policy to know how one can qualify for a refund.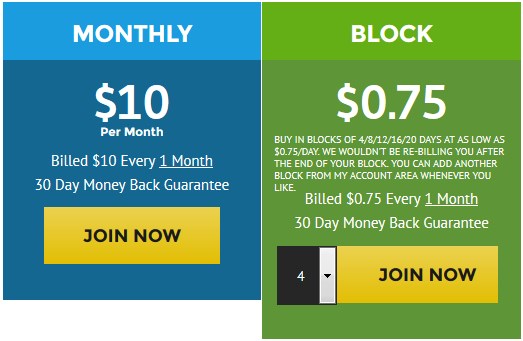 You can also buy a Slick VPN service in blocks of 4, 8, 12, 16 or 20 days depending on your needs. Slick VPN offers a per block rate of $0.75 per day. You won't be billed again after your block subscription ends – you'll have to buy another block again to continue using the VPN service.
Slick VPN accepts orders paid with PayPal funds, major credit cards, and Bitcoins. Unfortunately, those are the only payment methods available at the moment.
Slick VPN Privacy Policy and Security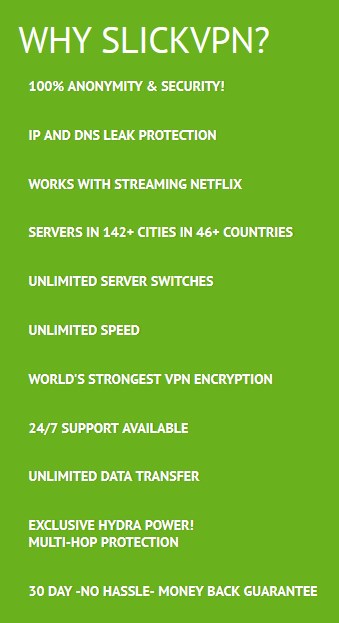 What we are not ecstatic about Slick VPN is its jurisdiction of choice. The VPN company is based in the United States. And while there are currently no mandatory data retention laws that apply in the US at the moment, the country is still known for asking favours from ISPs, telecommunication agencies, and other computing services of communications and users records.
As such, we are skeptical of SlickVPN's commitment to protecting user data.
Furthermore, Slick VPN also collects certain users' information to facilitate VPN. Here are the data that Slick VPN needs: email address, username and password, apache webserver data, payment information, all emails sent to the VPN service, Google analytics and temporary cookies. Slick VPN states that it does not log user activity though.
Slick VPN Customer Support
The only way for users to contact Slick VPN its ticketing support system. We're disappointed by the lack of other support platforms like telephone and a live chat feature. We tried the speed of responses and the response time was approximately 2-5 hours. We're quite pleased with the quality of responses as all our concerns were answered effectively and accurately.
Users also have the option to leave a phone number so that if customer support thinks your concern is better addressed thru a phone call, then you could receive a phone call assisting you in resolving your concern/s.
Review Conclusion: Is Slick VPN Better than Other VPN Services?
Overall, Slick VPN is a decent VPN service that provides good speeds, reliable connections, and great features to help users anonymize their internet habits. Slick VPN's 30-day moneyback / trial is wonderful too! Users can give the service a try with confidence and ask for a refund in case they don't find the service satisfactory.
So, is Slick VPN better than its competition? In some aspects, it's better than other VPNs particularly with its Hydra feature. But other than that, there are other VPNs out there that are simply better at providing overall VPN features. Nevertheless, we'd still give Slick VPN our two thumbs up for its amazing VPN service.
View Offers & Coupons