SwitchVPN – short, sharp, and to the point.
When reviewing any potential VPN provider, it's always a good idea to review the Terms of Service. Upon reviewing SwitchVPN's ToS page, the first reaction was "That's it!?". The second was "Why is this so easily understood?". It is a short page that spells out in no-nonsense, plain English what is expected: you will not use their service to commit any crime or indecency against others and most especially not against children (in such cases, you are advised to "leave the planet immediately".

SwitchVPN has servers in 20 countries:
USA
UK
Belgium
Canada
Czech Republic
France
Germany
Hong Kong
Italy
Japan
Latvia
Luxembourg
Malaysia
Netherlands
Romania
Russia
Singapore
Spain
Sweden
Switzerland

The encryption is powerful, as they use 1024 to 2048-bit, as opposed to the standard 128- or 256-bit. They also have excellent platform compatibility, supporting Windows XP, Vista, Windows 7, Windows 8, Mac OS X (10.5 or later), and even Linux. SwitchVPN also runs on DD-WRT and Tomato Routers and is compatible with most portable devices. Protocols included are PPTP, L2TP, OpenVPN, and SSTP. There is no traffic logging – just the standard username, VPN server logged into, IP address, and amount of bandwidth used, as spelled out in their Privacy Policy – but they require a lot of detailed information in order to sign up. P2P is permitted only on Netherlands servers.
The user interface of SwitchVPN: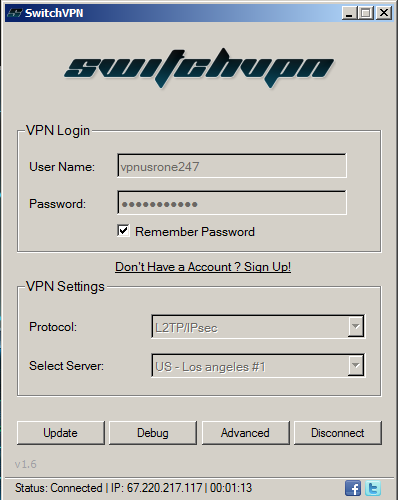 The simple and clear user interface of VPN Switch is initially offering the possibility to login with your username and password. If  you don't already have account, there's a link to sign up.You also find the settings to select the vpn protocol, and the server location that is neccessary for your purposes. Furthermore you find the buttons to update, debug or disconnect your connection as well as the button leading to the advanced settings interface.
The advanced interface asks for your language, MUT size and proxy settings. Fill in your http proxy information like the address and port, or your socks proxy details.If you want to auto start SwitchVPN or auto connect the vpn when SwitchVPN starts, you can also choose those settings here.
Positive customer reviews of customer service but the Live Chat agent who initiated contact disappeared and never came back. When Live Chat was re-initiated, a form message popped up saying no agents were available and presented an email form. On a third try, when asked "When was SwitchVPN established?", the agent directed me to open a support ticket.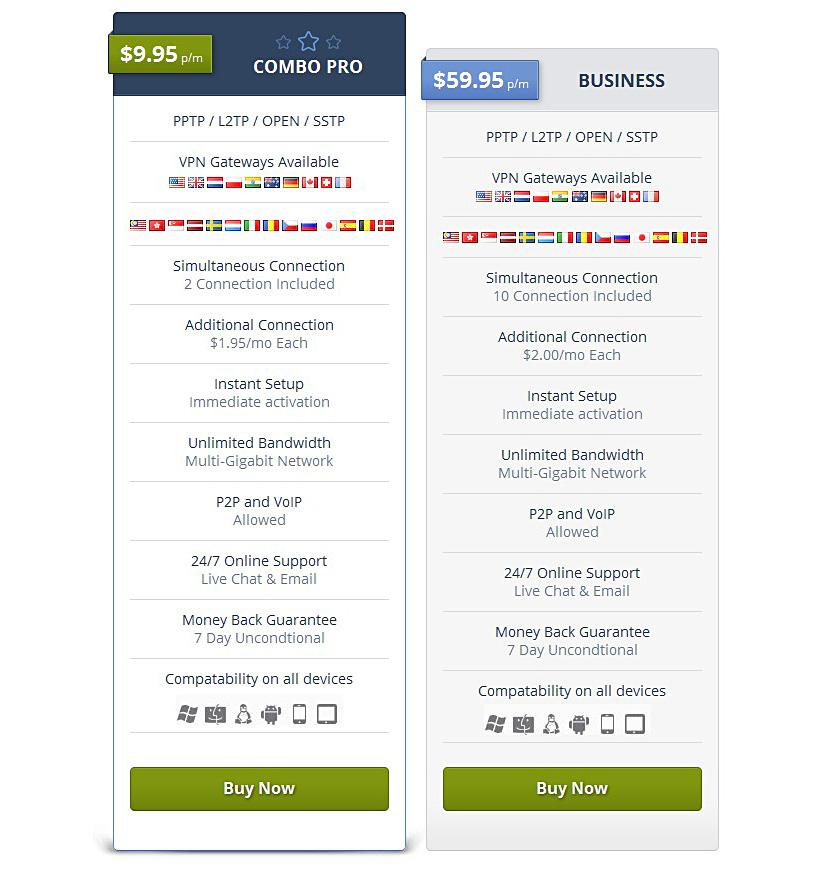 Plan options are similarly simple and easily-comprehended:
Lite ($5.95USD) gets you one connection to US, UK, the Netherlands, Germany, and Canada. Additional connections are $1.95USD/mo.
Combo Pro ($9.95USD/mo) gives you two connections (extra are also $1.95USD/mo) to all 20 servers.
Business ($59.95/mo) gives a whopping 10 connections (extras are $2USD/mo) to all 20 countries
All plans are available at reduced rates for quarterly and annual terms.
Superb encryption, good compatibility, but a little thin otherwise.
View Offers & Coupons