HideIPVPN is considered as one of the cheapest VPN service provider companies in the marketplace. Its main services include anonymous browsing, by passing from ISP limitations and offering unblocking website services simultaneously. The VPN services of this company are focused on small businesses and the personal users the across world, especially in the European region and North America.
Servers, Protocols and P2P in Detail
HideIPVPN offers premium VPN accounts on servers situated in the US States, Canada, UK, Germany and the Netherlands. The service offers limitless speed with no bandwidth caps, using encoded VPN technology and industry standard methods for example L2TP/IPSEC, SSTP, PPTP, and OpenVPN. You can switch freely between HideIPVPN servers in different locations with no additional cost. It runs bittorrents and P2P traffic on Poland and Netherland servers. It supports all kinds of famous operating systems such as Linux, Mac, Android, Windows and others. The headquarters of the company is located in the Eastern Europe at the following given address:

The pricing plans and value added features of this company are comparatively satisfactory. The company has many servers located in more than 6 different countries and counting. Among these servers many support point to point file sharing, although the service is limited to only two countries at present. The company offers unblocking services at very reasonable fast speed for numerous regionally blocked website and entertainment channels. The company offers many value added features such as, multiple switches of the servers without any limitation and numerous payment methods such as credit cards, PayPal, Bitcoins and many others. HideIPVPN also provides online speed testers on its website to test and verify the speeds of different servers located in numerous countries.
Pricing Plans
HideIPVPN offers 5 pricing schemes for its VPN services. These plans are based on the countries. It is one of these kinds of companies that offer pricing plans based on countries or regions. The main VPN pricing schemes are given below.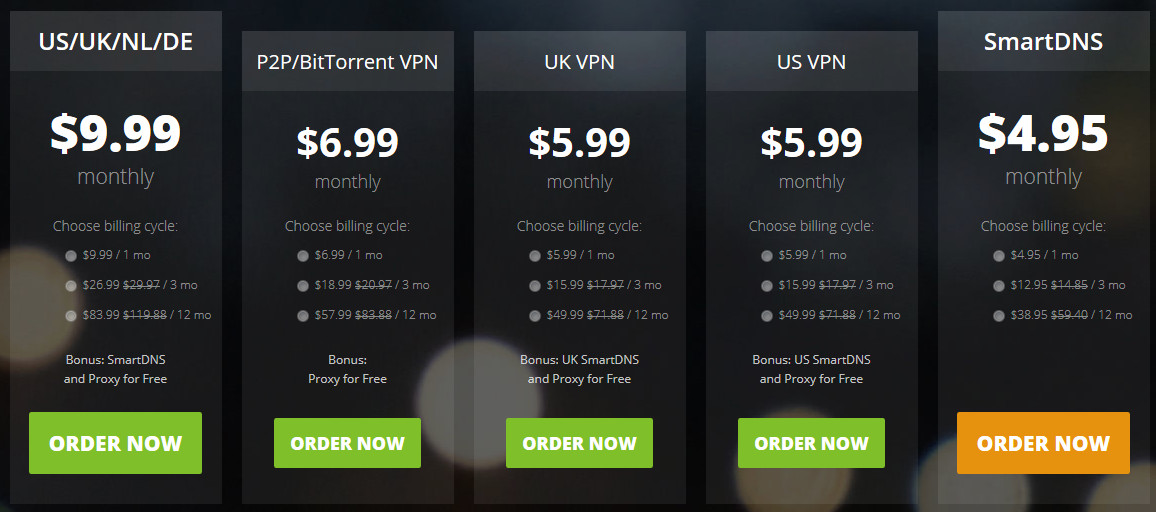 US/UK/NL/DE Plan:For $9.99/month with three different discounted payment options and all standard features
Canada VPN Plan: For $5.99/month with three different discounted payment options and all standard features
UK VPN Plan:For $5.99/month with three different discounted payment options and all standard features
US VPN Plan: For $5.99/month with three different discounted payment options and all standard features
P2P/Bittorrent Plan:For $6.99/month with three different discounted payment options and all standard features
The company offers numerous payment methods, such as debit card, PayPal and Google Checkout, and others. It also supports anonymous payment through BITCOIN digital currency. The smart DNS and proxy are offered free in different pricing plans of the company. It supports 30 days money back guaranteed on all pricing plans. Meanwhile, a free of cost trial period of 24 hours is also available to give you substantial time to test and verify the quality of service that the company claims to provide. Along with many other features, the point to point file sharing on some of its servers and other value added features are also enabled.
Features & Advantages
Like many other competitors in the marketplace, HideIPVPN provides numerous features and value added services on its flagship products (VPN Service). The main features focus mainly on commercial benefit and technical capabilities. The main features offered by the company are listed below:
Offers very competitive pricing schemes in the marketplace that many people consider it one of the cheapest service providers in the internet VPN security services field.
Offers 30 days money back guarantee scheme on all its pricing schemes
Offers 24 hours free of cost trial period to satisfy and testify the service features and quality.
Offers online speed testers to verify the current speed of the servers at any given time.
Supports SSL encryption of 128 bits
Also file encryptions is done at 2048 bits
The speed of VPN services of the company is comparatively good and can easily be checked through online speed checker available on the website.
Supports unlimited server switching between the supported countries and servers across the globe.
Supports all types of famous operating systems such as Windows, Linux, Mac OS, Android and others.
Supports all kinds of devices such as android phones, tablets, iPhones, iPads, desktops, routers and others.
Very simple and lightweight client software that supports all famous operating systems.
Supports clear logging policy to record connection logs for three (3) days and does not record browsing activities or any other information.
No sale of any user data or any other information to marketing or other commercial companies.
Offers good customer support through multiple mediums such as Live Chat, Email, System Tickets and others.
The customer support turnaround time is less than 12 hours, which is considered as a good one.
Takes all standard measures for security of financial transactions and other information.
Offers an effective and efficient application killer and switch kill functions to make sure that your anonymous browsing is not exposed in case of any connection drops.
Supports security on public hot spots and Wi-Fi connections.
Offers unlimited and unmetered use of internet bandwidth on all plans.
Offers any time cancel option without any lock-in with contracts
Support for three devices to use your VPN connection
Offers unblocking services on for many regionally blocked websites and entertainment channels across the globe.
Offers substantial discounts on long term payments such as 3 months, 6 months and 12 months etc.
Over 28 servers located in more than 6 countries and counting on a regular basis.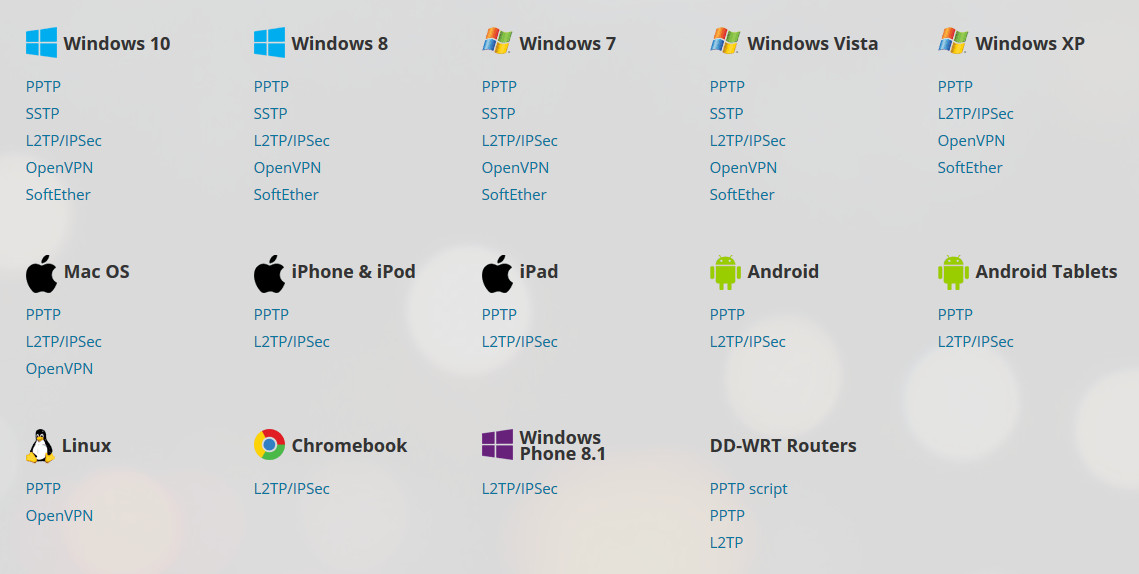 Disadvantages & Downsides
Like all other VPN service providers, HideIPVPN company service has also some drawbacks that affect its overall performance and capabilities. Among such downsides, a few are given below.
Most of the servers of the company are concentrated in Europe and the USA. No representation of other continents in the server distribution.
Very short trial period of just 24 hours
Small number of servers and countries as compared to others.
View Offers & Coupons