VPN Secure, was established in 2010, in Queensland, Australia. Since their creation, the company has targeted to provide a secure networking solution. Through the years they've been increasing the number of servers and server locations on a regular basis to improve their capabilities and their professional services.
If you're searching for a reliable and affordable VPN service without any bandwidth limits, VPNSecure is a reasonably good option. The company has many servers located in more than 41 countries and counting. It offers flexible pricing schemes and wide range of payment methods including the bitcoin digital currency. The company follows a strict policy of recording no-logs at all. The company uses reliable and efficient technologies related to security and data communication such as OpenVPN, PPTP and others. VPN Secure also offers website unblocking services for many geographically restricted websites and entertainment channels. The company has separate pricing plans for normal use of VPN services and enterprise use of security services. The headquarters of the company is located at the following address:
VPNSecure.me offers a variety of virtual private networking (VPN) plans to suit most budgets. Customers can choose from the following monthly price plans:
Open VPN – which is the most popular option
PPTP
HTTP Proxy
The company also provides a Smart DNS service. The popular Open VPN plan includes HTTP Proxy and SmartDNS in with the price and discount rates are available to customers who sign up for six months or a year.

VPNSecure.me Pricing Plans
VPNSecure offers a number of different packages which come with different benefits. The fundamental package types are:
1 Month VPN: $9.95 /month with all standard features
6 Month VPN: $8.30 /month with all standard features
12 Month VPN: $7.50 /month with all standard features
The company also offers some specialized packages called as advanced plans as given below:
PPTP One Month: $7.95 /month with all standard features
HTTP One Month: $4.95 /month with all standard features
Smarter DNS One Month: $ 4.95 /month with all standard features
You are able to bypass any throttling your Web service provider does in your account using VPN services and in addition all packages don't log any traffic.
Any user wishing to trial the VPNSecure.me plans can try out the the service for free, although use is fairly limited. VPNSecure.me also offer a two day trial of their complete Open VPN service for a couple of dollars, giving customers a great way to check out any problems prior to signing up long term.
VPNSecure.me have servers in 41 different country locations, so accessing country-specific websites and blocked sites is not a problem. VPN users are easily able to bypass the type of Internet censorship that is common for most browsers nowadays and one major strength of the VPNSecure.me plan is that it's easy to switch servers any time. The user can log into a UK server to access services like BBC iPlayer and quickly switch to a server in the United States to watch Netflix.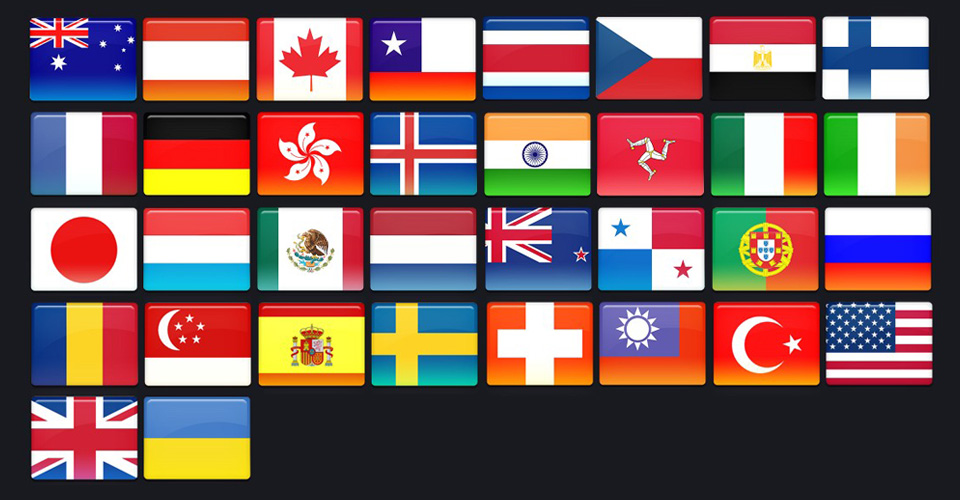 VPNSecure.me offers servers in: Ireland, Singapore, Mexico, Germany, Panama, Turkey, Hong Kong, Czech Republic, Costa Rica, Switzerland, Spain, USA, Iceland, Japan, Luxembourg, Italy, Egypt, Australia, the Netherlands, United Kingdom, Chile, Portugal, Isle of Man, Romania, Russia, France, Austria, Ukraine, New Zealand, India, Canada, Finland, Sweden
Customers wishing to sign up with VPNSecure.me will find the software downloads on the company's website. Downloads are available for Android, iOS, Windows, Apple Mac and Windows, so it's an easy matter to get up and running with the system. When paid plans are taken out, payments can be made using a variety of options including major credit cards, Paypal and Bitcoin. VPNSecure also has a Bitcoin payout option according to www.BitcoinAffiliate.net.

Customer support of VPNSecure.me is available via their 24/7 live chat service or an email ticketing system. There is also an extensive knowledgebase on the website which should answer a number of common problems and queries. Where paying customers experience regular problems with the service the company will issue refunds so long as no more than 50MB of data has been used on the account.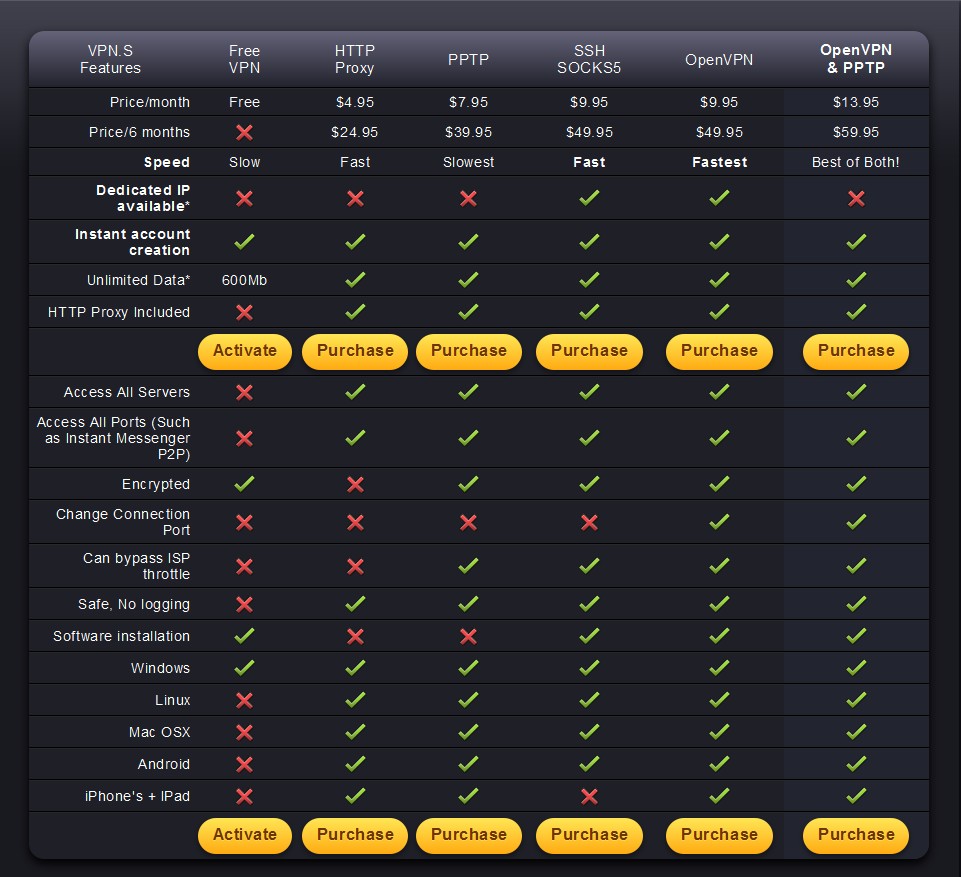 From a security perspective, VPNSecure.me do state they don't log any user activity, however independent review has found this may not be the case. Certainly, the company block access to file sharing sites like Pirate Bay, which seems at odds with their stated policies. P2P and torrenting customers might be well advised to avoid signing with this site.
Features & Advantages of VPNSecure.me
Like many other VPN service providers in the marketplace, VPN Secure offers many good features required for a reliable and secure service. A few very important ones are listed below:
Uses all common protocols such as PPTP, OpenVPN, SSH tunnels and HTTP proxies etc
Uses up to 2048 bit RSA file encryption available
Supports multiple payment methods including BITCOIN digital currencies.
Offers separate pricing schemes for different services to make it easier for customers to choose solution oriented plans.
HTTP proxy is available on all normal plans.
The service platform of VPNSecure is developed from the scratch; so, they customized every infrastructure and software for their service.
All servers other than Australian servers offer unlimited bandwidth without any speed cap. The bandwidth for the Australian VPN server is fixed to 50 GB monthly but other servers offer limitless bandwidth. The company doesn't oversell its services so with the ability to deliver fast speeds and continuous connectivity whatsoever occasions.
A large number of VPN servers are spread across 41 countries. Some of those servers also allow P2P traffic.
Offers limitless server switching possibilities to all clients.
Support for almost all types of devices and operating systems such as Windows, Mac, Android, iPads, Apple iPhone, Linux in addition to DD-WRT and Tomato routers.
An efficient kill switch is embedded in the client software to make your anonymous surfing fully secured and reliable.
Offers a 2 day trial account for $2 ($4 for PPTP OpenVPN). The company offers refunds simply to individual clients who aren't able to use the service and also have consumed below 50 Megabytes of bandwidth. A restricted feature, ad-supported free VPN account can also be open to new customers.
The company offers customer care through live chat and email. The live chat can be obtained for 20 hrs each day, but support through ticketing product is available around the clock. The company has additionally released troubleshooting instructions for most typical VPN errors on its support portal.
Offers the unblocking service for many popular websites and channels that blocked locally from 41 different nations. With your subscription, it is simple to access premium services like BBC iPlayer, Netflix, Hulu, iTV and others, no matter where you are in the world. The service offers defense against all types of surveillance and monitoring as well as enables you to definitely bypass the fire walls used by ISPs and Governments. When you are linked to the service, it is easy to access sites like Gmail, Twitter, Facebook, Skype and YouTube even when the website is blocked by your government.
Offers better security because of higher levels of file encryption utilized by the service, your sensitive data, for example credit card amounts, social accounts and passwords remain protected from all kinds of robberies and security risks.
Support security for Wi-Fi and public hotspots to make your browsing experience more comfortable and satisfying.
Disadvantages & Downsides of VPNSecure.me
VPNSecure is designed to provide fully featured and professional service to normal users as well as to the enterprise users, but it has some fundamental downsides too. Those downsides of this service are listed below.
The company offers recording of no logs but still it keeps an eye on your web activities due to certain local legal and other commitments.
The file sharing is limited to the legal bindings; that means you can't share files in specific countries.
Only two major protocols are available related to VPN security.
View Offers & Coupons