PureVPN offers its VPN customers a few unique features including split tunneling and a tool to select the most appropriate server, based on the user's preferred choice of activity. Another useful function is the ability to conduct five simultaneous connections from a variety of devices. VPN service plans are available to suit individual users and corporate users. Added benefits of the PureVPN service include unlimited transfer of data, allowing as many downloads as required and no streaming restrictions.
PureVPN is one of the major players in the VPN marketplace. It was established in the year 2006 with a soft launch of the company. It was commercially launched in 2007. The main objective of the company was to provide secure and encrypted services to hide identities and data of the users from external malicious users and government agencies. The company offers non filtered internet access with fast speeds through  secured tunnels. The VPN services offered by this company are equally popular for business users as for normal users across the globe. The PureVPN Company is located in the city of Hong Kong in the East Asian region. The headquarters of the company is located at the following address:
Pure VPN Inc
Hong Kong City
Peoples Republic of China
Official website: //www.purevpn.com/
The company owns a  large network consisting of more than 500 servers located across all parts of the globe. The physical presence of the company servers is spread over 141 countries round the world with a huge pool of as many as 80,000 IP address. The company has over 1 million  customers and the number is counting rapidly on a regular basis. The company has a large presence in the USA, UK and Canada to cater the increasing demands of VPN services across the respective continents. The cutting edge technologies, world class customer support, secure networks, and low cost services are the other salient features of the VPN services of the company.

The company provides instant chat support on its website, giving round the clock technical support for customer queries and problems, as well as online ticket generation services. It's possible to switch servers while logged into the service and use any across the six covered continents.
How fast is PureVPN?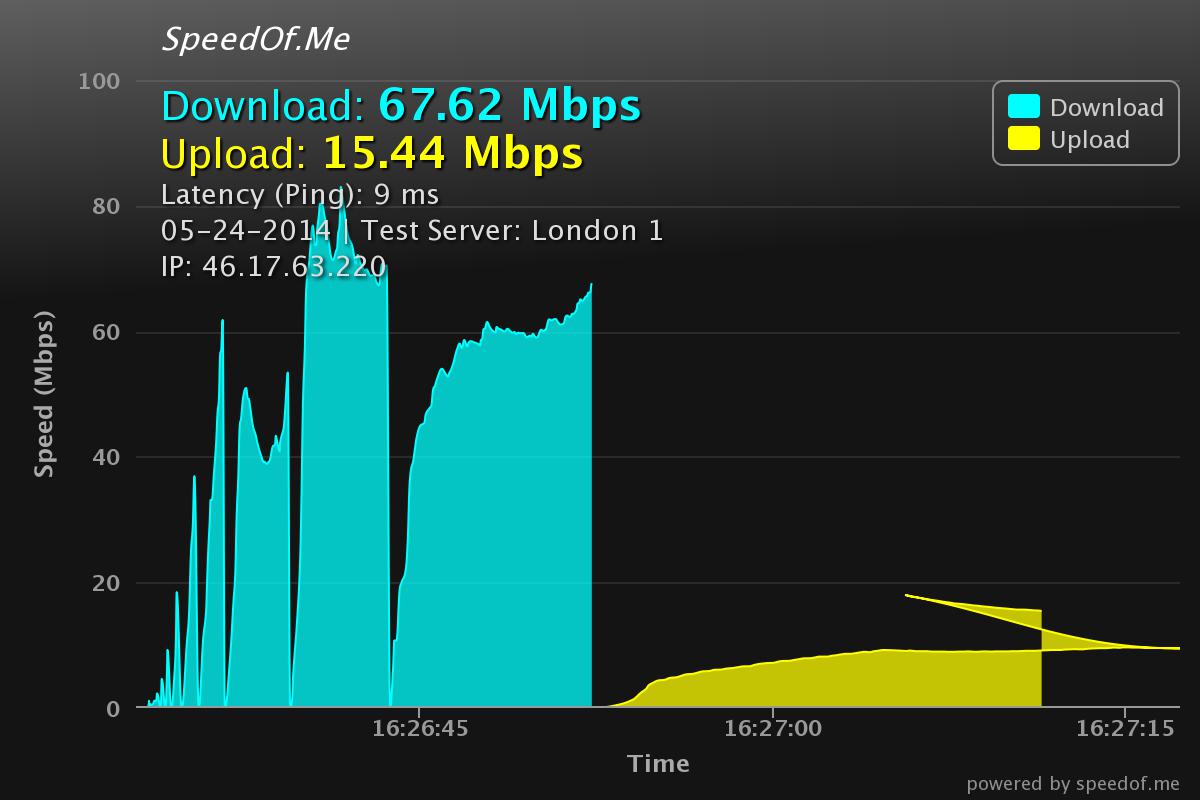 The speed of PureVPN servers in Germany, tested on a 1Gbit/s connection
The split tunneling function gives users the ability to separate out traffic needs, retaining important activities under the umbrella of the VPN facility, while allowing less critical activities like data streaming can be released from the secured data tunnel and take advantage of faster internet speeds. Users will find that the opportunity to conduct five logs in at the same time gives them chances to provide internet protection for friends and loved ones which is an important asset for any modern internet user. This is particularly important when accessing the internet from mobile devices which rarely have high levels of security.
Corporate users can choose the PureVPN package to suit their business needs, ranging from the Mini selection offering cover for 10 to 20 separate accounts to the Enterprise plan which offers cover for 100+ accounts. There are numerous reasons for businesses to protect themselves with a virtual private network, these include protecting sensitive business correspondence, the ability to use the VPN IP addresses for invisible analysis of competitor details and information and acquiring secure remote access to the company portals.
The user interface of PureVPN: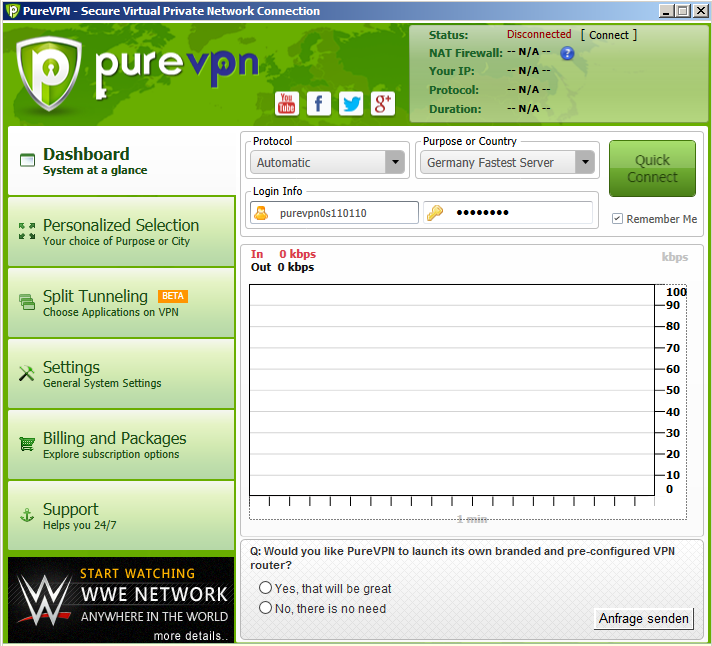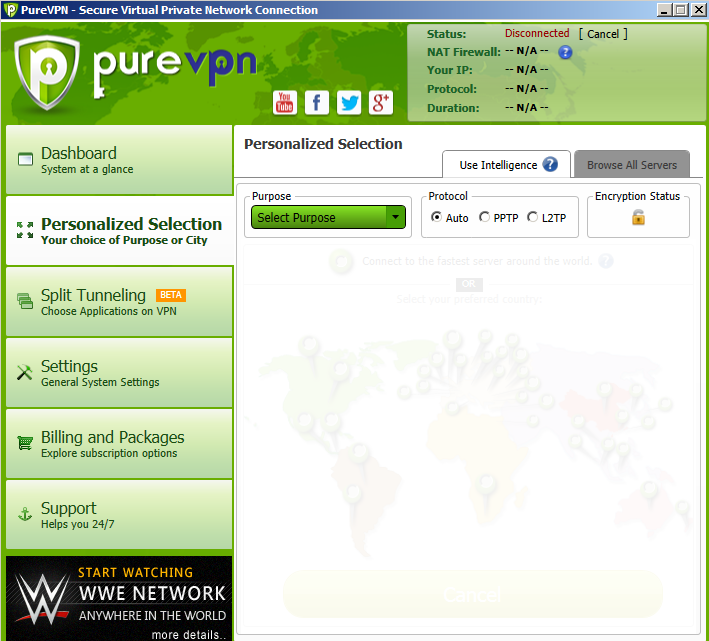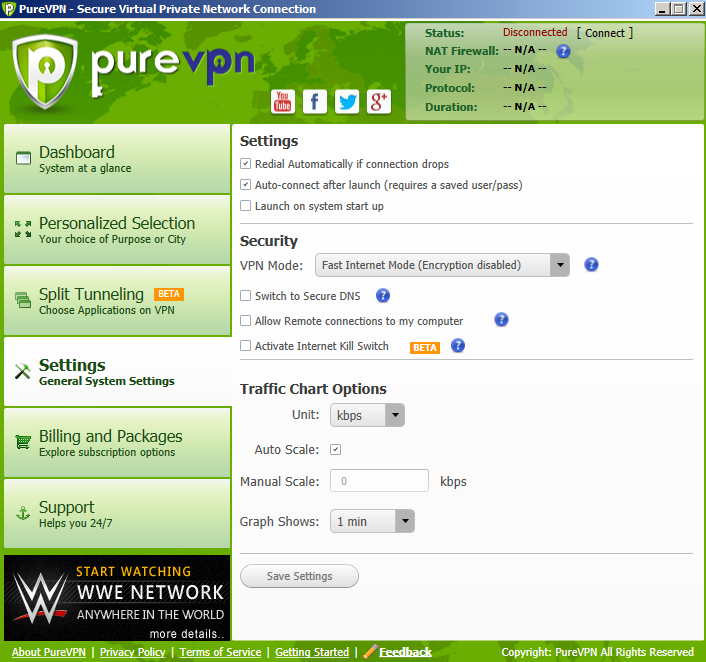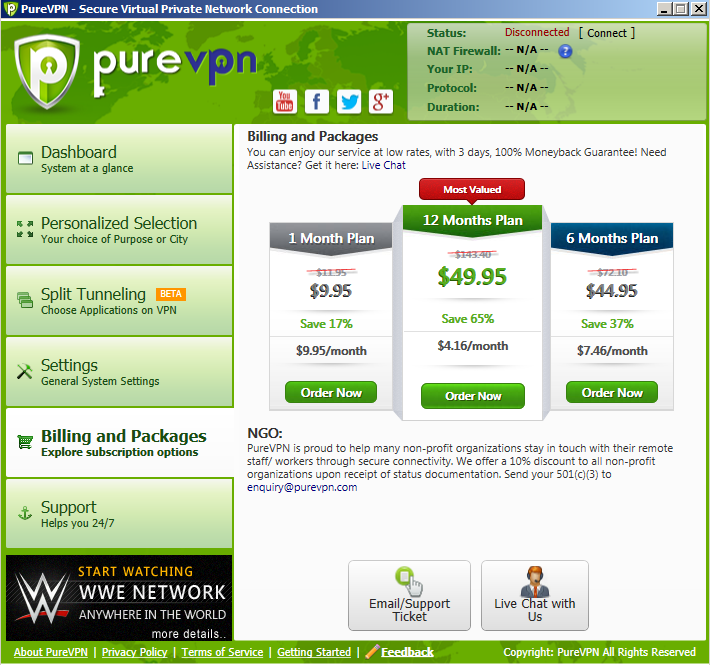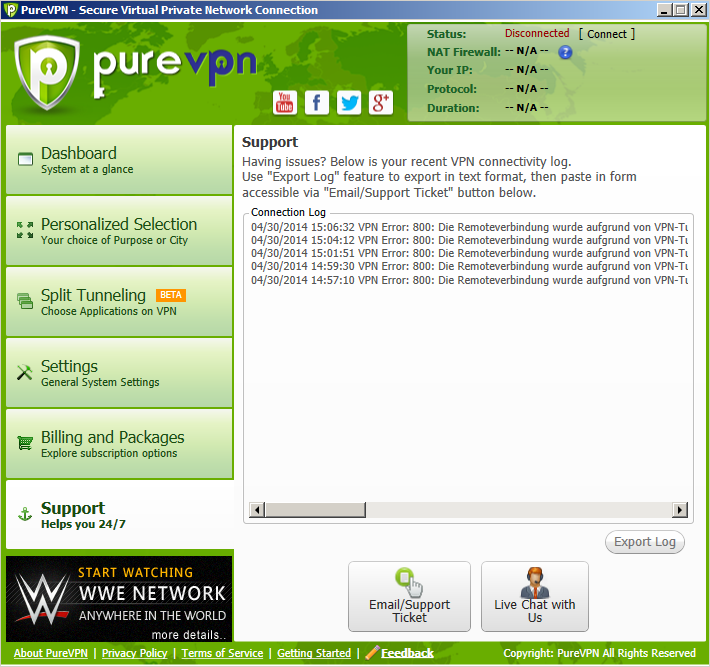 Business users still benefit from the same ability offered to private customers to simultaneously log in from up to five devices per user and they also receive unlimited bandwidth use. Additional business extras that can be purchased separately include NAT firewall service, a network control policy and a corporate branded apps service which brands all the VPN apps with the business logo. They also offer a Business VPN solution – read more about that on corporatevpn.org. PureVPN has been providing virtual private networking services since 2007 and provides a guarantee of 100% uptime, all of the time, alongside some unique customer friendly features.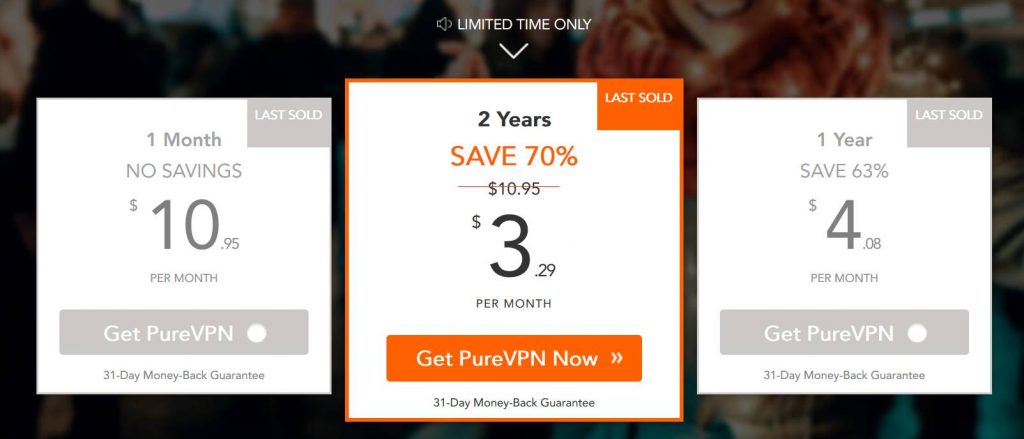 Pricing & Plans
PureVPN offers very affordable and attractive pricing schemes and plans for different types of customers. The pricing plans of PureVPN are considered among the best in the marketplace; they are equally suitable for enterprise customers as well as for personal users.
Personal User Plans
The company offers three major pricing schemes for personal use as listed below:
1 Month Plan: For just $10.95/Month, fully featured.
12 Month Plan: For just $49 – $4.08/Month (63% OFF)
24 Month Plan: For just $79 – $3.29/Month (70% OFF)
All three pricing plans are covered under 7-day money back guarantee scheme. The company also offers a special discount of 10% on every new registration as a limited time offer. All packages allow the customers multiple simultaneous logins and unlimited server switches . Of course, unlimited data transfer is associated as a complimentary service for all service plans offered by the company.
Business Plans
PureVPN offers customized business plans for different sized businesses and enterprises. The customized plan is based on the requirements of the client; this plan also supports DDoS protection and other features. The prices of the customized plans are negotiable with the company sales representatives. Numerous value added features, capabilities and support options are offered with the customized plans.
Features & Advantages of PureVPN
The VPN service of PureVPN ioffers numerous advantages to all kinds of customers such as personal users, small business users and large enterprises. The main features of the service offered by the company are listed below.
Offers affordable pricing schemes for both personal and business users.
Offers unlimited server switches and unlimited data transfers
Offers fast speeds without any bottlenecking
Offer 256 bit encryption to make your data highly secure and uncompromised
Uses all major protocols such as SSTP, OpenVPN, PPTP, L2TP/IPSec, IKEv2.
Guarantees a network uptime  of 99.99%
Uses Internet Kill Switch to keep your ID secure and unknown during any internet connection break
Offers 7-day 100% money back guarantee
Supports all popular platforms such as Windows, Linux, Android, iOS, Mac and others
Support all devices such as mobiles, tablets, laptops, and desktops.
Offers multiple VPN client software applications compatible with different devices and operating systems.
Offers many add-ons in your subscription such as SmartDNS service, dedicated IPs and others.
A wide network of servers (over 450) located in more than 89 countries across the globe.
Supports Wi-Fi and firewall
5 logins at the same time on all subscriptions
Supports the Split Tunneling feature to increase your speed of the connection
Offers paid dedicated IPs on all plans
Customer support through multiple mediums such as Live Chat, Email, System Tickets, Forums, Knowledge Bases and others.
Supports numerous payment methods such as Credit Cards, PayPal, WebMoney, Payza, Skrill, Bitcions and others
Disadvantages & Downsides
The VPN service of PureVPN is beneficial for all kinds of customers; but there are also a few downsides, which are given below.
They just changed their policy concerning logfiles to 'Zero Logs'; hopefully this is true now
All standard plans are attractive, but the add-ons put extra load on budgets
There is no free plans or trial period for free without providing the financial information
The registration process is a bit lengthy as compared to other service providers in the marketplace.
View Offers & Coupons