Surfing the web these days should be done in a safe and secure manner. Unfortunately many users don't seem to realize the importance of their privacy online until such a time that they get hacked. If you want to keep your internet connections as secure as possible then make sure that you are running a reliable VPN service on your computer or even on your mobile device.
There are a lot of VPN service providers out there that promises to provide users with the best VPN solution but only a few of them can actually provide quality VPN connections.
In the following VPN review we will try to determine whether LimeVPN is one of the reliable providers in the market today or is it VPN provider to stray away from? Continue reading to learn about LimeVPN.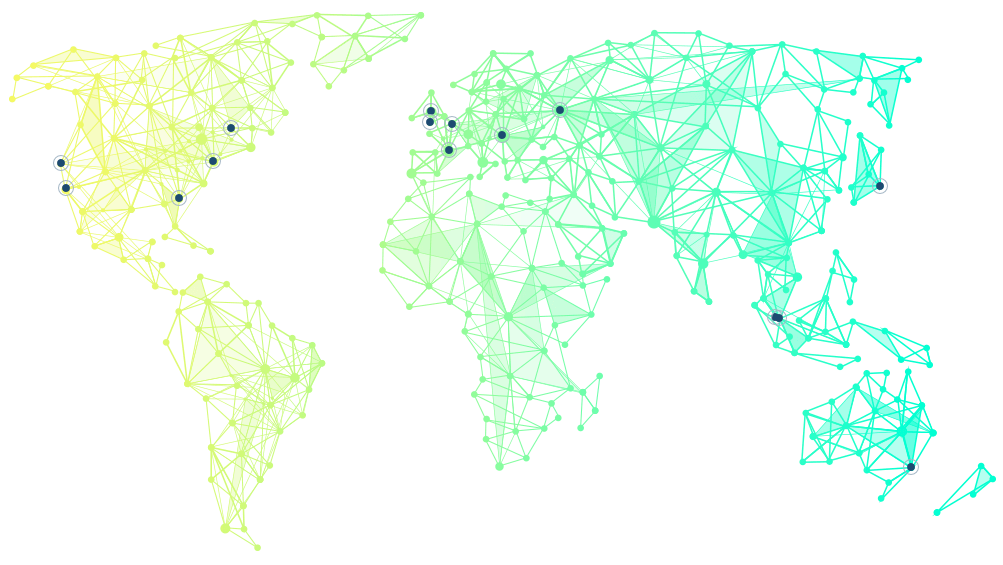 About LimeVPN
LimeVPN is a relatively new VPN service provider that was only established in 2014. The VPN is based in California and it aims to provide users all over the world with a reliable tool for unblocking the internet altogether.
Logging Policy
Under its Log Keeping Policy page, the VPN states that it does not log user activities, transfer data or websites visited. It clearly states, however, that it records certain type of user data. LimeVPN records the following data: timestamp of VPN access, bandwidth usage and location where the VPN connection was made. We don't know for sure if LimeVPN also logs IP addresses.
The VPN service provider also states that it will hand over user data to authorities if it is subpoenaed to do so.

Service Features
LimeVPN offers a feature-rich VPN service. The VPN service offers up to 10Gbps speed which is ideal for watching geo-blocked video content from streaming platforms such as Netflix, Hulu, BBC iPlayer and Amazon Prime.
The California based VPN service also offer unlimited bandwidth usage and server switches with no extra charge. Some VPN providers charge extra for every server switches that users perform. In terms of encryption, LimeVPN provides a very secure firewall by using a 256 bit encryption system to safeguard its users' data.
NAT Firewall is also available but as an add-on feature. Since LimeVPN claims to be one of the fastest VPN services today, it's making sure that users can utilize their fast VPN network so it's supporting P2P file sharing activities. LimeVPN also allow 3 simultaneous VPN connections on a single VPN plan.
Pricing Packages and Promos
LimeVPN offers two types of VPN plans namely the Basic and the Pro VPN packages. Its Basic VPN costs about $17.88 billed annually – that's equivalent to $1.49 per month. Looking at how cheap the yearly plan is, it's surely is a great deal! You can also purchase a single month plan that costs $4.99 or a 3-month plan that costs $13. With the Basic plan, users will enjoy one of 6,000 shared dynamic IPs and can be used on 2 logins at the same time. You can use the promo code SUMMER1 to avail a 50% discount off your purchase.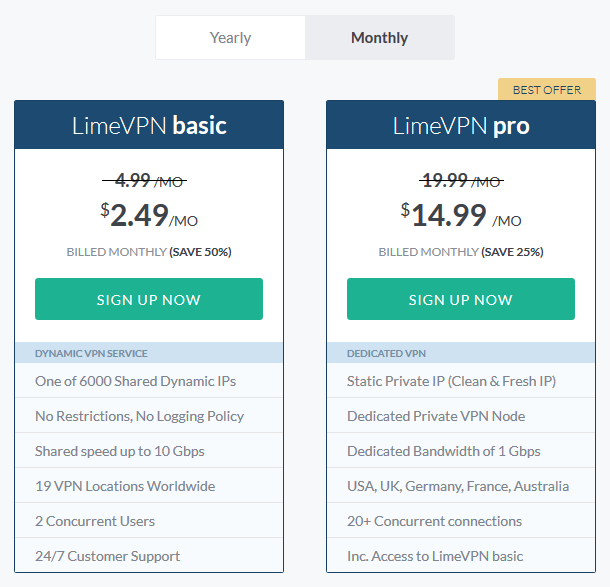 Now if you want to have a static private and fresh IP address, you should subscribe to its PRO VPN plan. This plan is relatively more expensive than the Basic plan. A LimeVPN PRO VPN plan costs $19.99 per month or $180 per year. You will also need to choose your dedicated VPN location between USA, UK, Australia, Paris, London, Amsterdam, Tokyo, Sydney, Singapore or Toronto.
All VPN plans are offered with a 7-day money back guarantee. Refunds are subjected for approval though. Please check the requirement for filling a refund at LimeVPN's Refund Policy. Eligible refunds will we refunded back within 3 business days.
Payment Methods
Users can pay for their VPN orders by using PayPal, major credit cards, Payza, Skrill, Western Union, Sage,PayU, Ripple, ClickAndBuy, Bitcoin, bank transfer.

Quality of Customer Support
We are extremely pleased with our experience with LimeVPN's customer support. Live chat as instantaneous and the responses we got were precise. LimeVPN also offer other forms of support including ticketing system and a comprehensive FAQ page. Users can also contact LimeVPN via its Facebook page, Twitter and G+ channels.
Supported Protocols and Devices
LimeVPN supports all kinds of devices and the most common security protocols. LimeVPN is compatible with Windows, Mac OS, iOS, Android and Linux. The VPN company also supports PPTP, OpenVPN, L2TP/IPsec and SSTP.
LimeVPN offers its own dedicated VPN client app that is compatible with Windows and Mac OSX machines. LimeVPN has also developed its client app with the Softether platform. And of course, users can also setup their LimeVPN account with the OpenVPN software. There are no dedicated VPN apps for mobile devices though. Mobile users will have to manually configure their smartphones or simply use the OpenVPN mobile app.

Server Locations
LimeVPN has over server presence in over 19 countries worldwide. Here's a complete list of servers locations that are actively working: California, Narberth, Los Angeles, Atlanta, New York, London, Kent, Singapore, Jurong West, Moscow, Romania, Amsterdam, Tokyo, Paris, Montreal and Sydney.
LimeVPN supports torrent use but only on certain servers namely its Kent, Romania and Montreal servers. Video streaming is also restricted to a couple of servers only (California and Romania). LimeVPN subscribers should have no problem bypassing geographic restrictions imposed by streaming channels across the globe including Netflix, Hulu, YouTube, Amazon Prime and BBC iPlayer.
Speed and Overall Performance
Since the VPN company's VPN network is connected to a 10Gbit nodes, we really didn't experience any speed slow downs or lag issues. We enjoyed streaming movies via Netflix on an extremely fast connection.
Conclusion
What we love about LimeVPN is its really affordable VPN plans that are extremely stable and reliable. Although we believe that LimeVPN has a long way to go before it can be considered as a top-notch VPN service, we think that LimeVPN is more than capable of developing a better and more flexible VPN service. We would rate LimeVPN 8/10 for its superb VPN service. The only criticism we have it the VPN company's lack of dedicated client app for mobile devices. Nevertheless, LimeVPN is still a decent VPN service provider.
View Offers & Coupons