Hide Me VPN Service is one of the many VPN service providers available. It has a worldwide network of servers that are individually selected and provide a high level of security. The servers are supported by all mainstream protocols including IPsec, SSTP, L2TP, PPTP. Softether, etc. The advanced servers also support IKEv2. Moreover, all protocols are supported with an encryption of 256 bit or less. Hide Me is the brainchild of a few IT experts who have provided internet security to governments and multinationals.
Their network spreads over 20 countries across five continents. The reason behind such a vast network is simple: easy viewership of blocked content that is geo-specific and complete online anonymity. The company's headquarters are in Malaysia which is a great advantage to them in keeping all data secure. Malaysia does not have laws regarding internet data logging. Hence, they are free to delete any and all data without the obligation of sharing any information with the authorities if such a situation arises. The headquarters of HIDE ME VPN Service Provider Company is located at the following address:
Hide Me Inc.
Labuan Federal Territories
Malaysia
Official Website: //hide.me
Malaysia is one of the few countries worldwide  that has absolutely no laws about data logging, which is why HideMe simply doesn't do it. If presented with a court order to do so, HideMe will (and this is according to their privacy policy) immediately and without hesitation turn over all hard drives because they'll all be blank. Furthermore, should Malaysia enact laws requiring data logging or recording of customer information, HideME's stated intent is to pack up and move somewhere else – they take their customers' privacy that seriously.
All over the world – the Hide.me VPN Servers: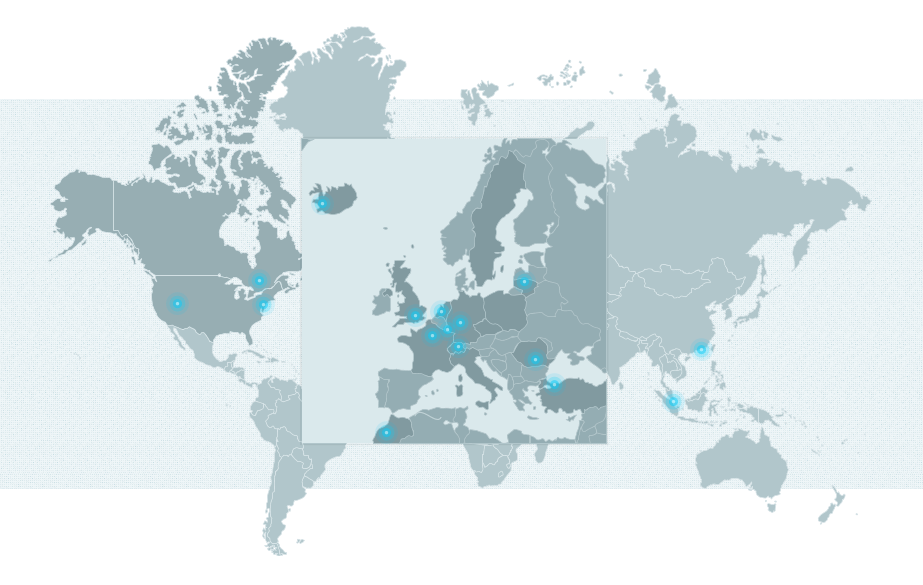 Hide Me provides with very good speed on all protocols. However, some servers provide with better speed than the others, particularly those based in Germany since that was their initial market. For that very reason, their website is also available in German and contains a german speaking community that the English version unfortunately does not. Compared to their global presence, the total number of servers is 88, which is good. While the speed continues to be excellent, the bandwidth might become a problem. The company offers 3 packages, one of which is free. However, it comes with its limitations. The Premium package, on the other hand, is a bit on the pricey side.
Hide.me Features: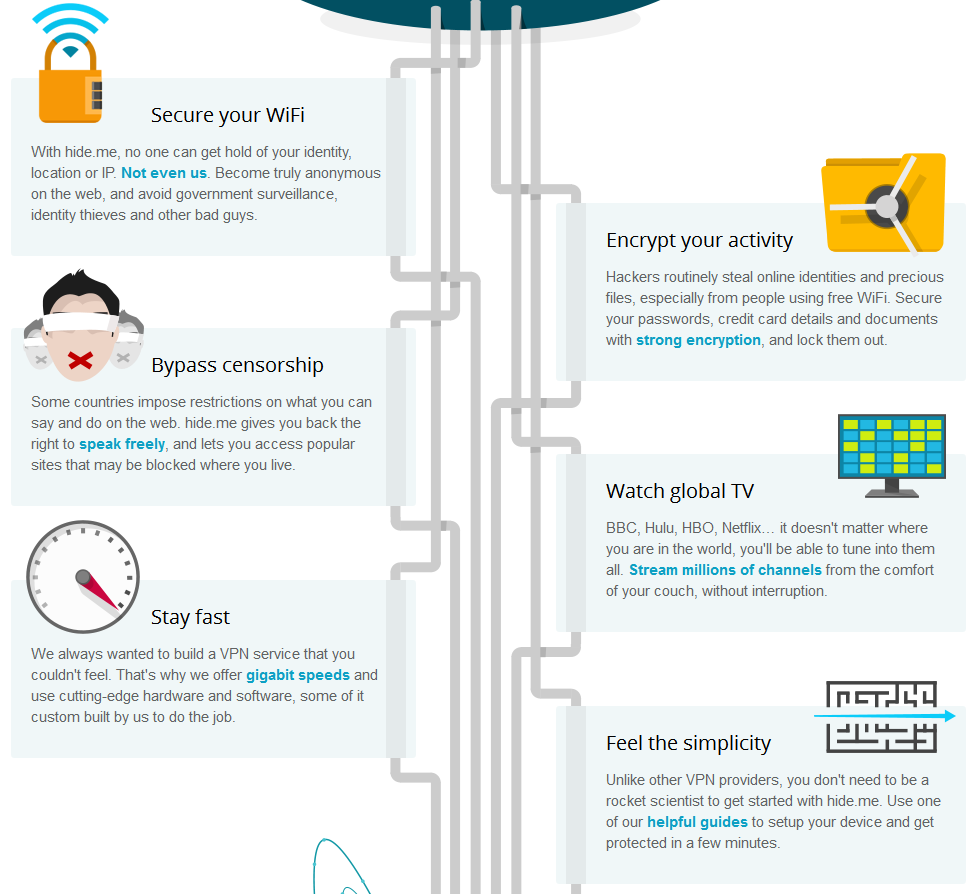 Hide.me's network is smaller than others available but they go to great pains to ensure that the servers are of the very best, thus keeping your connection speed as high as possible given the limitations of your own connection to the internet. The software was developed in-house, so the odds of someone being able to crack it are lower than a VPN using a commercially-developed product.
Hide.me does not keep any logfiles – which really sets them apart from the other big VPN services.
Hide.me pricing:
Hide Me VPN services come in three different packages offering something that would suit all kinds of customers. There is a free package which provides with all main services in a limited capacity. This package is great if you are looking to try the quality of the services. The second package is plus. It has comparatively more features and less limitations. The third and also the most popular package (according to their website) of the three is Premium.
Free plan: 1 connection limited to 3 servers/countries (Singapore, Canada, Netherlands), 2 GB data transfer, bandwidth on a "best effort" basis – meaning you get what's left over from the paying clients, and no OpenVPN.
Plus plan: $4.99 – $9.95 per month, 1 connection with access to all servers, unlimited data transfer, 75 GB bandwidth, all protocols (PPTP, L2TP, IPSec (v1 and v2), and OpenVPN), plus port forwarding
Premium plan:  $9.99 – $19.95 per month, 5 simultaneous connections with access to all servers, unlimited data transfer, unlimited bandwidth, all protocols (PPTP, L2TP, IPSec (v1 and v2), and OpenVPN), plus port forwarding
Both, Plus and Premium packages have a 35% discount on their 6 month plan and a 45% discount on their yearly plan which makes going with the latter, the most popular one. These discounts bring the Plus plan down to $5.42 per month and the Premium plan down to $11.67. There are over 80 ways in which you can purchase the plans. These include Visa, American Express, Master Card, PayPal, BitCoin, UKash, Wire Transfer, PaymentWall and PaySafeCard to name a few.
All payments are handled by external payment providers and are linked to a temporary payment ID. This temporary payment ID can not be connected to the users VPN account/activity. After the payment is completed, the temporary payment ID will be permanently removed from the database.
The 3 packages offer a number of different features with up to 5 connections, unlimited data and bandwidth, and up to 28 different locations. Since Hide Me prides in its high security services, the registration and payment procedure is also easy and very secure. All you need is an email ID to sign up. Moreover, once you have made the payment, no one can trace it back to your account because the log is immediately deleted.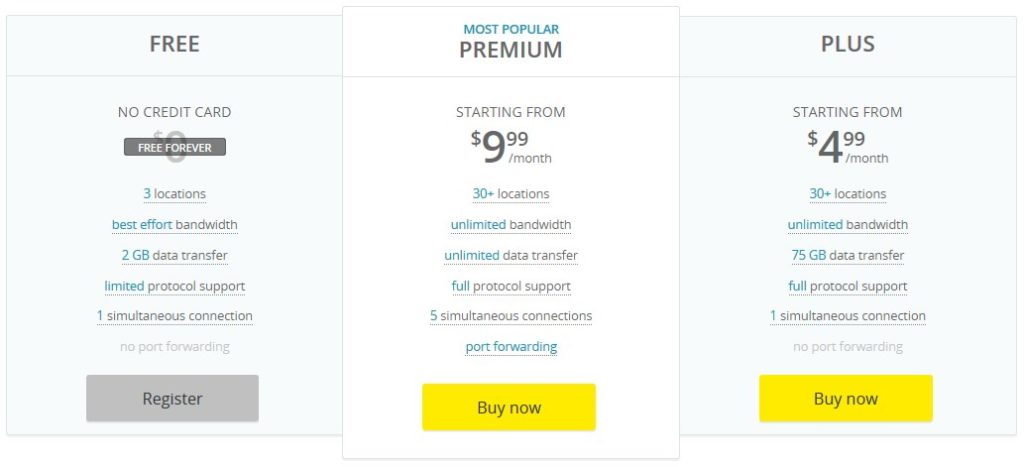 To sign up for the free account, click the "Register" button, enter your email address, click the "activate" link in the resulting email, then click the "Join" button – done deal! Checking the servers page, there are three available – Canada, Netherlands, and Romania. Customer service has not replied by the time this article was completed, so unsure if the third server was added due to residency or if the Billing page requires updating. HIDE.me is recommended by TorrentVPN for Filesharing and Downloading.
Recently they added a 24hour support with TAT of 24 hours as well as a live chat support – which we havent tested so far.
A third-party payment platform leaves no way to legally connect anyone paying an account with any direct user of that account and payments can be managed on a one-off basis or as a subscription (free account requires no renewal).
Hide.Me so far is a nice little anonymiser with good website instruction to compensate for less-than-stellar customer service availability. That they do not save any logs makes them a very interesting VPN service for everyone who is concerned about their privacy and wants to download files, movies and also Porn on Playstation VR without worrying about being "caught".

Hide.me offers server locations in: Australia, Italy, Switzerland, Poland, UK, Marocco, Canada, Romania, Iceland, Japan, Luxembourg, Hong Kong, Turkey, Sweden, USA, France, Austria, Netherlands, Singapore, Germany, Lithuania, Mexico.
Features and Advantages of Hide.me
Since Hide Me offers 3 packages, each has something unique, adding utility and diversity to the packages to cater to different needs. Here are the main features:
You can avail servers in 28 different locations. The free package allows 2 locations only.
Unlimited bandwidth with the free package offering best effort bandwidth.
Premium users enjoy data transfer without any limit.
Plus members have a 75 GB limit on data transfer.
Free package users have a 2 GB limit on data transfer.
Full protocol support for Premium and Plus users.
Premium users have an access to 5 connections at the same time.
Free and Plus members have 1 connection.
Port forwarding is an additional feature in the Premium package.
All packages ensure high security by encrypting your internet connection.
The VPN service is highly flexible because its protocol supports almost all popular devices.
24/7 customer support
Does not save any activity logs
Allows P2P and torrents
Comes with a money back guarantee of 14 days if the bandwidth used is not more than 500 MB.
The website offers a free proxy.
A simple connection does not need an administrator's privileges.
Has an active community where you will easily find solutions and interact with other like-minded people.
It supports a number of different platforms including iPhone, Mac OS/X, Windows, Linux, Android, DD-WRT and iPad/iPod Touch.
Encryption of up to 256 bit.
Internet activity will not even be decipherable for ISPs.
Disadvantages and Downsides of Hide.me
The client doesn't have built-in support for OpenVPN.
If you want to set up multiple connections at the same time, you will have to set them up on the Hide Me website before connecting to the other devices.
The Premium plan is a bit more expensive compared to other similar options available.
You can only contact via email. No live chat option or telephone number is provided.
The number of servers is a bit low to deal with heavy traffic.
View Offers & Coupons